Over the past month here at Ballymena Today we have been blogging about Stephanie from Ballymena who planned to climb Ben Nevis. She was climbing the highest peak in the UK to raise money for Friends of the Cancer Centre who helped her through her cancer treatment one year ago.
Ballymena to Ben Nevis – We did it!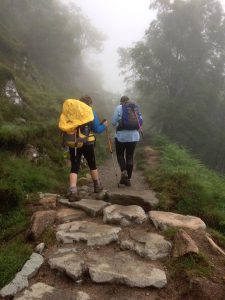 The great new is that Stephanie, Rhonda and myself headed over to Scotland on Friday and drove up to the Ben Nevis Inn ready for our climb on Saturday. We stayed in the Bunkhouse there and met lots of other hikers who shared maps, tips and advice about our first big climb.
We headed off at about 8am and took the Pony track, otherwise known as the Tourist track.The weather had stayed dry but was mostly misty so we kept our heads down and kept walking. The paths were steep at times and we had lots of breaks but we go to the summit in time for a leisurely lunch. The summit is very big, 40 acres, but was very busy with other groups who were raising money and teams who were taking part in the three peaks challenge.






At 2pm we stared hiking again and as we descended the mist lifted and we were rewarded with some incredible views. We took our time and ended up back at the Bunk House at just after 5pm giving us time for a shower and cuppa before we headed out for dinner. The banter was great and we absolutely loved climbing Ben Nevis. Well done to all the people who we met on Saturday who were also raising money for brilliant charities. Click here to find out more about charity we were fundraising for.
The Slieve Donard Challenge
If our hike has inspired you to do something active for charity then there are plenty of options. One which we would recommend is coming up at the beginning of September. The Slieve Donard Challenge will be held on Saturday 3rd September:
Get your walking boots on and join us as we get set to take on Northern Ireland's highest peak on Saturday, 3rd September. 

At 850 metres, Slieve Donard is a great challenge to take on for you, family and friends.  Not only will get you get a real sense of achievement when your reach the top, but you'll also get to soak up the beautiful surroundings of the Mournes with views that stretch as far as Scotland and raise vital funds for us along the way.  The walk sets off from Donard carpark and we'll greet you on your descent with some well – earned refreshments. 

Registration is £10 per person and you can sign up in a few easy steps by clicking here.
The Friends of the Cancer Centre have a Dragon Boat race, and lots of opportunities for runner to fundraise too. Click here to find out more.
Thank you to everyone who has supported us in our challenge and a special thanks to Stephanie and Rhonda who climber Ben Nevis with me. We will let you know the full fundraising amount once the funds are all in and counted.