So far here at Ballymena Today we have managed not to get too caught up with the football frenzy. However we loved this picture which was shared on the Old Photographs of Ballymena this month. The picture features a very serious looking Ballymena football team which includes the manager of Northern Ireland, Michael O'Neill.
All Saints Primary School football team 1980 with a young Michael O'Neill (bottom left). This information was on the back of the photograph:
Back Row (L-R) Mr G O'Reilly, B Graham, M Molloy, L Davey, T Lyness, S O'Neill, C McQuillan, P Hughes, H Boyle, Mr S McLaughlin. Front Row (L-R) M O'Neill, K Connolly, M Higgins, R Toal, E McMahon, D Agnew, J McCann, C McWilliams, C Gormley.

It also lists the competitions they won that year. The Ballymena Schools League, the Telegraph Cup, Ballymena District Schools League Senior Cup and the Sloan Cup.
We hope that the Northern Ireland team can play as well as the All Saints team did in 1980!
Football in Ballymena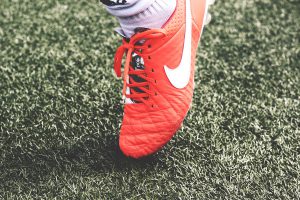 In Ballymena we have some great football teams which offer training for children who are football mad. Organisations like Coaching 4 Christ and Carniny Amateur and Youth FC give boys and girls an opportunity to try this sport and get help to progress as they grow older. If you have a young footballer in your family Carniny Amateur and Youth FC are currently holding open Trials/Training sessions on Wed 22nd June for their squads.
Click here to find out more information from the Carniny Amateur and Youth FC website.
Also the Mid East Antrim Council has announced their Summer fun 4 kids 2016 program – This year's Summer Fun programme includes a variety of courses and activities to keep everyone entertained. Ranging from football to life saving, golf to the c21 theatre company, there really is something for everyone. New to 2016 is a two week Summer Scheme at Seven Towers Leisure Centre offering a variety of activities to keep the children entertained all day long! 
To find out more of to register your kids please click here to find out more. Thanks to all the volunteers who help run these teams  and organisations which bring football to kids in Ballymena.