Recently, Rachel from the Ballymena Today youth team decided that it would be a good idea to relax and meet up with a couple of friends for coffee and lunch in He-Brews, Ballymena……..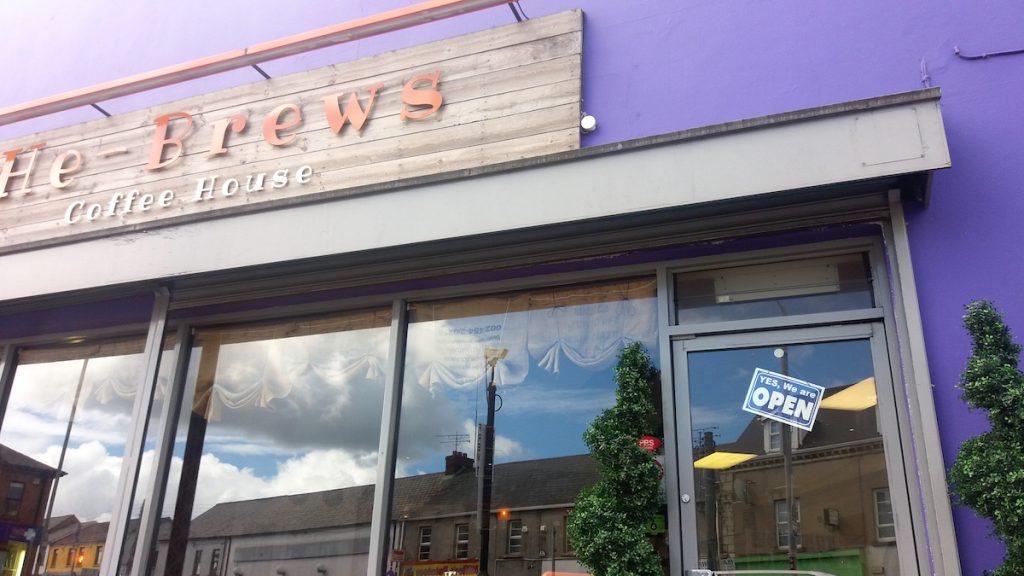 He-Brews is a coffee shop on Queen St, Ballymena, near Papa's Kitchen, Boots and many other shops. It opened in September 2013 and I am surprised that I have not been there sooner!
My visit to He-Brews Ballymena
When I went in, I was immediately greeted by the smell of lovely food and a scene of cosiness, as I went and sat down to wait for my friends. There was a nice range of style in seating arrangements; there were retro wooden tables in the middle, with tall, orange seats by the window and huge comfy sofas scattered throughout. Of course, I was drawn to the sofas like a moth to the light! I sunk into one, and was surprised by how much it sunk down into a pit of comfiness…




While I was waiting for my friends, I had time to look around me and see what there was. I must say, I absolutely love the interior design of the place. As well as incredible sofas, there were cool wall displays such as a guitar hanging up on the wall, bicycle wheels on the wall and even a bicycle itself was hanging on the wall! I have never seen anything like that before! I also love the design idea behind the till and counter: lots of little squares, rectangles and other shapes actually in the wall and used as places to put their "ornaments", such as stacks of colourful jugs, clocks, kettles, glasses – all the little things that makes it look just lovely!




What we ate
To eat, I had a wholegrain bap filled with mixed leaf, Parma ham, cheese and cucumber! It came with a cute side of nachos drizzled with a vinegary sauce. One of my friends got a ham and cheese toastie (which also came with the side of nachos) and a hot chocolate with marshmallows and whipped cream and my other friend got an iced latte with a bowl of chilli cheese nachos! My sandwich tasted amazing and all the ingredients were so fresh and tasty and the nachos were the perfect thing to have with it!
Of course, I just had to have a bit of my friends' food too, and I can say that it all tasted amazing – the toastie, drinks, and all! It was all made fresh and therefore smelt and tasted brilliant!
We were all so happy with our food, and we had to try really hard not to go up and get something else!
Well, can you disagree? Who can argue with a big bowl of chilli cheese nachos for £2?