VOYPIC stands for the Voice of Young People in Care. Voypic has an office on Castle Street in Ballymena and is a charity working across Northern Ireland. Their work is to promote the rights and improve the lives of children and young people cared for away from home. They may be living at home in care; with foster or kinship carers; in children's homes; in secure settings; or in supported accommodation. They may be preparing to leave care or be care leavers.
Voypic Careday
One of their campaigns is CARE DAY 2017. VOYPIC officially launched their Care Day 2017 Campaign with help from the Northern Ireland Football League. Here are the details:
We are calling on individuals, communities, government departments and key organisations from the statutory, voluntary, community and private sectors to LOOK, ACT, CARE on Friday 17 February. Over 40 events have now been registered!  Is one of them yours?  If not and you have an event planned, make sure you complete the Expression of Interest form to ensure you receive promotional materials.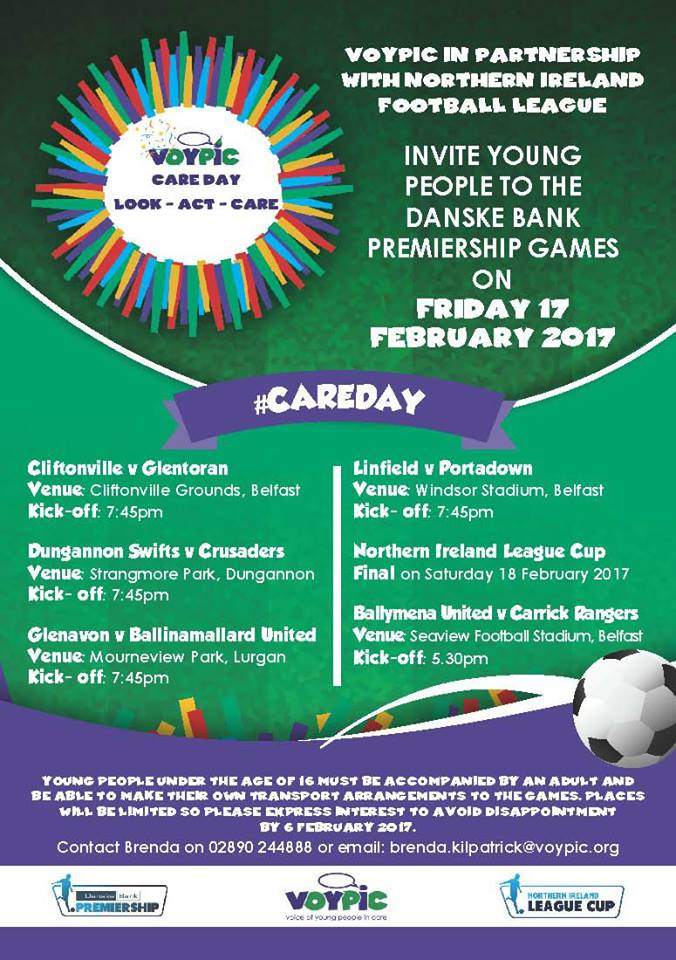 We want Care Day 2017 to be even bigger and better than last year. Check out our special Facebook page for what happened in 2016 and to keep up to date with what's happening this year. Above is an example of one of the events planned this year. 

We will increase awareness of care and build a supportive care community. The focus is on children and young people and how they inspire with their potential. 

What should you do next?

Be part of changing the story for children and young people in care and care leavers – contact VOYPIC about how you can be involved!

Phone us 028 9024 4888
Email Claire
Like the VOYPIC Facebook page (5N1VCareDay)
Follow #careday #LookActCare on Twitter
So next week on Friday 17th February don't forget to engage with VOYPIC Care Day 2017. Click here to view the VOPIC website which contains lots of information. It has lots of resources to children and young people in care which you can access here.