In Ballymena the Dog's Trust helps to rehome dogs from their base on the Teeshan Road. This year they have been campaigning to make people aware that dogs and puppies should not be given as gifts. The decision to get a dog is a big one which should never be taken lightly. Read about their new campaign below.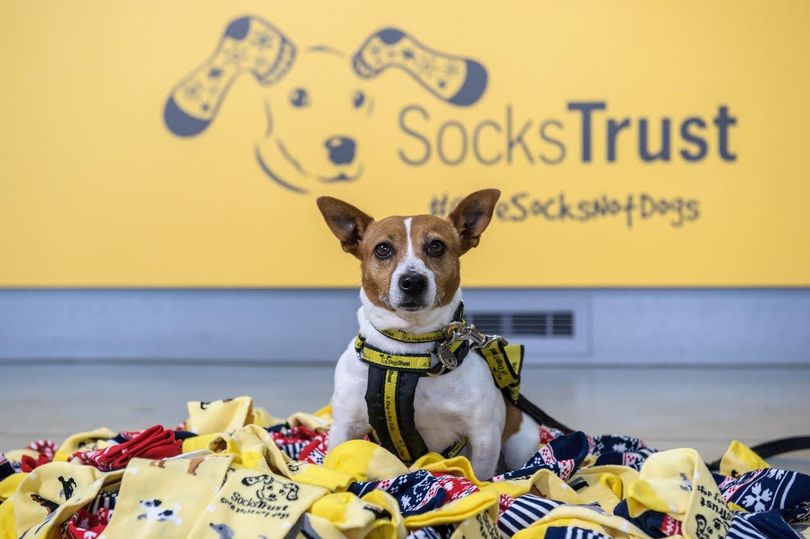 (Featured Picture form the Loughborough Echo)
Tis the Season to Give Socks, Not Dogs
Dogs Trust is taking a stand against impulse puppy purchasing by changing its name to Socks Trust, encouraging Brits to #GiveSocksNotDogs this Christmas. To highlight the huge number of Christmas gift pups given up by ill-prepared owners, the charity has created an exclusive line of festive socks featuring some of the loveable hounds left abandoned over the festive season.
Championing the most conventional and possibly least returned Christmas present of all – a safe pair of socks – Socks Trust is working to avoid the plight of puppies bought on a whim and neglected when the reality of dog ownership sinks in. Last year, a staggering 3,400 calls were made in the 30 days following Christmas from new owners wanting to give up their dog, amounting to a staggering 113 calls about unwanted dogs per day.
Sadly, this is an ongoing problem as every year over 1,000 unwanted dogs are handed in to the 20 Dogs Trust rehoming centres in the weeks following the festive puppy-buying rush, with 1,256 handed in during this period last year alone. Dogs Trust's iconic slogan 'A Dog is For Life, Not Just For Christmas,' remains as relevant as ever, as the charity finds itself picking up the pieces when the appeal of a cute puppy wears thin.
Adrian Burder, Dogs Trust CEO, who rescued abandoned Christmas pup Skipper in 2014 (pictured above with the newest addition to his family, rescue pup Ruby) commented:
"There's no denying that buying a puppy for a loved one can seem like an extravagant and exciting purchase. Unfortunately, the realities that come with being a new dog-owner are often overlooked in the thrill of it all and we have seen how some people end up simply abandoning puppies as if they are just another one of their unwanted gifts left under the Christmas tree.
"We want to avoid these unfortunate situations and as Socks Trust, we are encouraging prospective buyers to make sure they've thoroughly thought about the reality of dog ownership before they impulse buy. Instead, opt for a safe pair of cosy socks that their loved ones definitely won't give back this year. After all, we can never have too many pairs of Christmas socks!"
Whilst any pair of socks will do as an alternative to buying a dog this season, Socks Trust's range aims to feed the desire for pups under the mistletoe by featuring eight pooches and their personal stories. The limited-edition socks can be purchased from Dogs Trust Charity Shops across the country and the Dogs Trust eBay shop. All funds raised from the purchases will go towards caring for over 16,000 dogs in the charity's care every year.
Click here to visit the Dog's Trust Ballymena website.