Weddings Ballymena – Men's Wedding Suit Hire
If your 'big day' is at the planning stage, another item on the to-do list will be the men's wedding suit hire. The guys need to look smart too!! We called with one of the longest established men's suit hire businesses in Ballymena to find out more. David Bellingham Menswear & Suit Hire has been trading in the town for 40 years. That's a lot of experience with many hundreds of grooms and their parties being suitably dressed for the big day.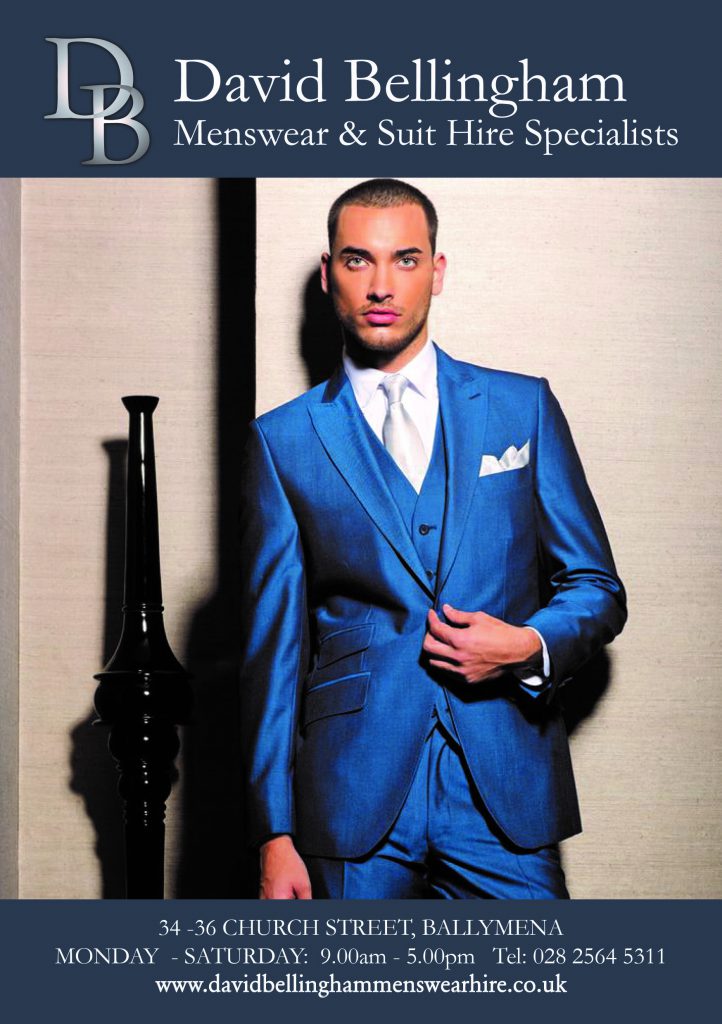 We asked David some relevant questions.
Before we talk about what's current, what are the major changes you've noticed in men's wedding suit hire over the years?
"The biggest change is definitely the selection of both colour and style of suits available today. Gone are the days of dull colours!"
Getting the correct men's wedding suits are obviously a very important part of the preparations for each couple. How do they begin the process of choosing?
"Simply call in with us and in the privacy of our suit hire department you can begin to look at the suits available. We can help you choose the correct style, colours and fit for your party."
What styles are most popular in 2017?
"This year a very popular choice has been the blue 3 piece suit, very similar to the one in the photo above."
What about the little guys on the wedding party?
"That's no problem! We have matching boys suits available."
Accessories complete the look. What do you offer here?
"It's crucial that the men's ties match the bridal party colours so we stock a large range of these. Also accessories like cuff links and socks are available."
The men's wedding suit hire is a very important part of the planning for every wedding. David Bellingham Menswear & Suit Hire in Ballymena offer a great selection of suit hire options.
We hope you're enjoying our Weddings Ballymena series of articles, especially those of you at the wedding planning stage. Get in touch with David Bellingham Menswear & Suit Hire if you need men's wedding suit hire in Ballymena. They're at 34 – 36 Church Street in the town. Check out their website here and they're also on Facebook here.