Homes Ballymena – Decorative slates by LLCrafts
LLCrafts create decorative slates which are perfect for homes in Ballymena. Louise Lester of LLCrafts loves painting bespoke designs for her clients. We love her decorative slates which are perfect as they can be placed inside of out. They area a great way to display your house name, number or your business name.
Homes Ballymena – Decorative slates by LLCrafts
Above shows the range of options which you can have created for your home. Take a look at these specific projects which Louise from LLCrafts has carried out in the past.
This is signage prepared by Louise for the Crafty Hub which is part of the LLCrafts business. This is where Louise offers workshops and art classes.
Along with personal customer orders 'LLCrafts' can also produce 'Slate Signs' for your business, even depicting your logo or business branding. In the past Louise has painted numerous 'Bed & Breakfast' Room Signs, painted onto any requested size of slate. They are ideal to decorate the various interior doors for your guest to use.
Also any 'Business Logo or Brand' can be painted onto any size of slate, just like this beautiful 'Bruces Hill' sign, welcoming this butcher's customers into a cosy and comfortable coffee area! A photo of your logo or brand is all that Louise needs, and the design of the sign can be worked directly from them.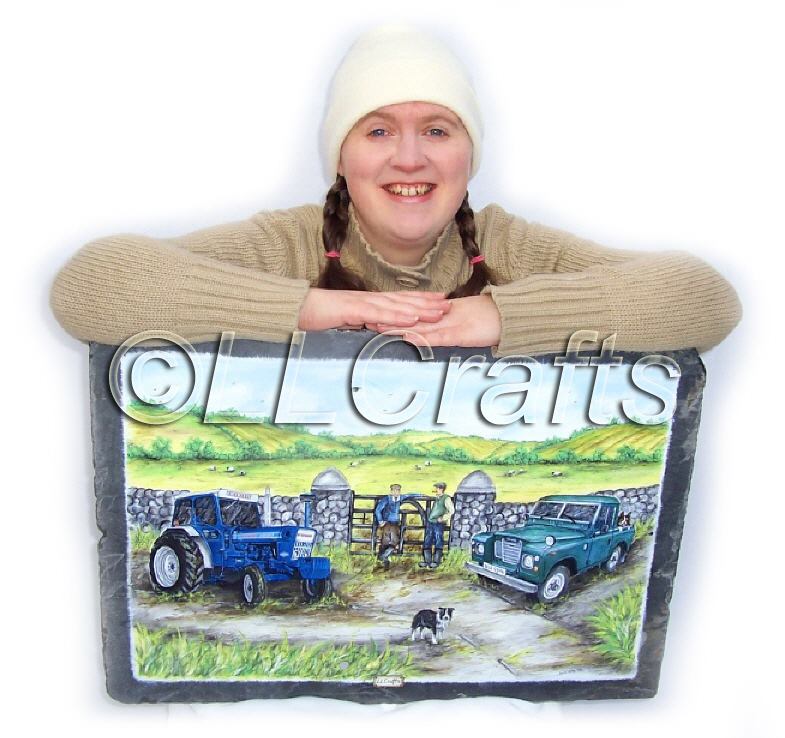 An exterior slate from LLCrafts is re-claimed and recycled to give you a beautiful piece of artwork outside your home. Choose from Bangor Blue, rustic Red or Vintage Green, all these natural slates can be painted creating that perfect unique rustic and eco-friendly addition to your home.
Each individual Slate craft order will be personally discussed with artist Louise Lester, enabling each customer to design their own unique and bespoke Slate Plaque. Louise can paint an image, you can even supply your own photograph and add text.  When painted, the slates will be finished to be suitable for exterior or interior use, as specified by each customer.
So your 'Slate order' can be as personal or as simple as you wish, and can be hung anywhere! Click here to visit the LLCrafts website or call 028 2564 3505 to discuss your decorative slates for your home in Ballymena.