Extended Walking Area at Dogs Trust Ballymena
Rescue dogs will benefit from an extended walking area at Dogs Trust Ballymena. This expanded exercise area has been welcomed by the staff, volunteers and homeless hounds at the centre. The walking path now includes a pond and greater access to forestry around the premises. This will allow staff the opportunity to take the dogs on longer walks. This is essential for their socialisation as well as physical and mental stimulation.

You can watch a short video of the new extended walking area at Dogs Trust Ballymena here.
The first dog to enjoy the new surroundings is seven-year-old Border Collie cross Polly. She has been a resident at the Ballymena Rehoming Centre for more than 486 days. Staff are unsure why Polly has been overlooked by potential owners for so long but are happy that she has even more space to explore while out and about with canine carers.
The staff, volunteers and homeless hounds are enjoying the extended walking area at Dogs Trust Ballymena.
Oonagh Philips, Rehoming Centre Manager at Dogs Trust Ballymena, said:
"The new walking area is fantastic because not only does it expand our existing walking route for dogs; it is also a fun environment for them to sniff out new smells. The new pond and woodland area offer lots of natural elements that will keep them entertained. It will also stimulate them with lots of physical and mental challenges that can help to build their confidence.
As the first dog to experience it, Polly has really enjoyed herself. But as much as this will be a welcome addition to her daily walks, we would much prefer to find her a loving new home. As well as getting out and about, her favourite pastime is playing with her toys and searching for treats.
Polly is very clever and is incredibly enthusiastic about learning new things. She is a great, friendly dog who is brilliant to be around. It really would be wonderful if she could finally find her special someone. Our smiles would then be as wide as hers!"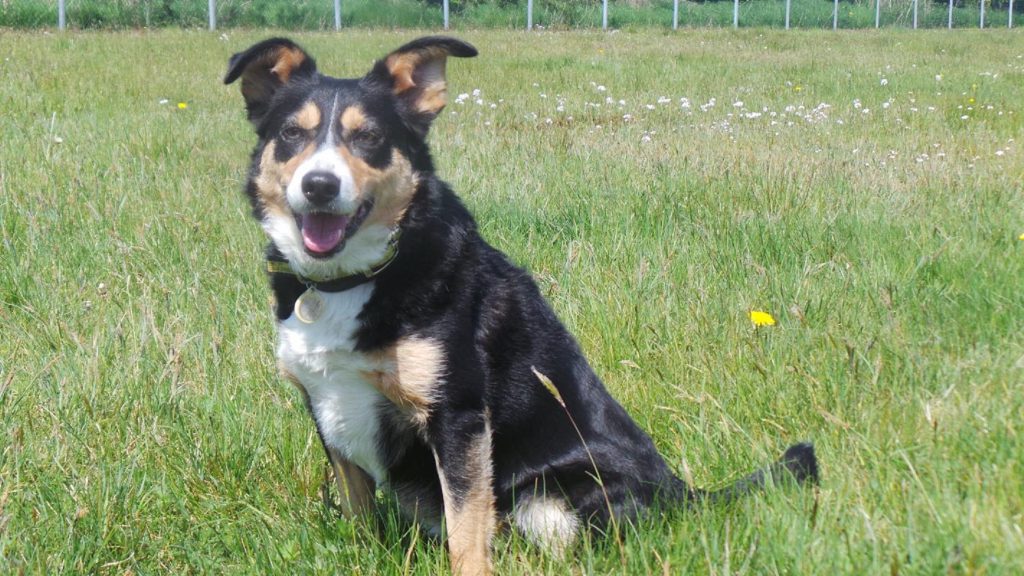 Polly has her paws crossed for a family who are happy to continue her training. She can live with a family who have older teenagers but will need to be the only pet in the home as she loves soaking up all the attention for herself. For now, Polly will continue to benefit from the extended walking area at Dogs Trust Ballymena. The staff at the centre would love her to go to a new family home soon.
If you think you could be the one for Polly please call Dogs Trust Ballymena on 0300 303 0292. You can also visit the Dogs Trust Ballymena website here.