Ballymena Business – Woodsides Photographic

Woodsides Photographic is part of the long-established Church Street based Woodsides Pharmacy. Woodsides Photographic offer a high quality printing service. They also stock a good range of cameras and lenses, photo frames and other photographic equipment.

We spoke to manager, Ryan, to find out more about Woodsides Photographic.
What excites you about photographic trends and technology at the minute?
The photographic market has changed quite a bit in the last 10 years. We now have a phone market and on the other hand, an SLR/mirrorless market with very little activity in between.

This means photography is more accessible than ever before, especially with phones. Prices of higher quality cameras have also dropped significantly which makes them readily available to anybody who wants to take up photography as a hobby.

The independent camera shop is becoming a rarity nowadays. Despite all the changes it's good to have a shop where experienced staff can have a chat with you and where you can get some good advice. As a photographer myself I am  passionate about it and have extensive knowledge in the new and old age of photography. I am personally excited daily by the creative projects I get to work on. For example, restoration of vintage photography, designing invitations and thank you cards, banners and collages or special commemorative gifts are all services we can offer.
You offer a printing service. What do your customers need to do to get their photos printed?
Woodsides Photographic are a Fujifilm retailer. Fujifilm have recently invented an application for your phone to remotely print and pay from the comfort of your own home! This makes it very easy to print off your photos. Simply download the app, create an order and either collect it or have it delivered.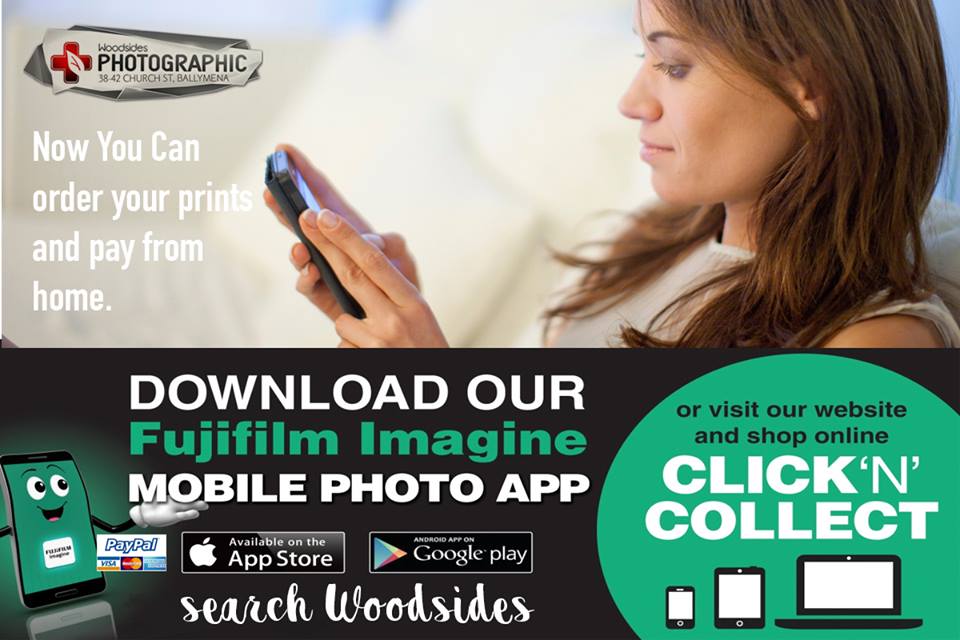 You can also visit our shop where we'll be glad to help you access, choose and print your photos. We offer digital printing from cameras or phones along with reprints of old negatives or old photos, film processing, etc. We also offer large format prints on lavish types of paper for that special portrait or landscape.
What would you like to promote now at Woodsides Photographic?
We are currently running a 20% off all online orders right up until the start of September using the code: welcome at checkout. If you're shopping in-store we have many lenses, filters and triggers on offer. Also when you're there, take a look at the memory blocks. These mdf & perspex blocks are all bespoke and made by us for all occasions, tailored to your instruction and come in varying size.
Woodsides Photographic – cameras & lenses – printing service – photo frames, cards and canvasses – photographic accessories
Woodsides Photographic is open 6 days a week from 9:00am – 5:30pm (closed Sundays). Call in and speak to Ryan if you're thinking of buying or upgrading your camera or equipment. Also remember they offer a fantastic printing service using Fujifilm and Epson machines. Like their Facebook page here to keep up-to-date with new equipment & services and to see all the offers as they happen. Woodsides Photographic are at 38 – 42 Church Street, Ballymena.