Ballymena First Aid are running two First Aid at Work training courses in Ballymena.
A one-day 'Emergency First Aid at Work' course on Wednesday 30th January 2019.
A three-day 'First Aid at Work' course from 30th January – 1st February 2019.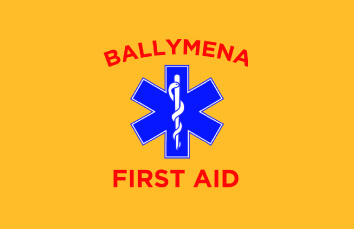 The venue for both courses will be the Doury Road Development Group, 1 Wayside Green, Ballymena BT43 6JZ. Starting each day at 9:30am and finishing at 4pm. Those who successfully complete these courses will be awarded with the relevant accredited certificate which will be issued with a 3 year qualification.
Details of the First Aid at Work training courses in Ballymena
Emergency First Aid at Work (1 day course) – 30th January 2019
This course will see the introduction of subjects such as:
Roles and responsibilities of a First Aider.
Assessing an incident.
Providing first aid to an unresponsive casualty.
Providing emergency treatment to a choking casualty
Treating external bleeding
Treating a casualty in shock
Identifying and treating minor injuries.
Cost of this course is £60 per delegate.
First Aid At Work (3 day course).  30 January – 1 February 2019
This course is more in depth and as well as including the above subjects it also covers management of:
Bone Injuries
Spinal Injuries
Eye Injuries
CPR and safe use of a defibrillator
Secondary assessment of an injured person.
This course costs £160 per delegate.
Would you like to attend either of these courses? Are you a business owner/manager and would like your staff better trained in First Aid? If so, then please get in touch with Danny McCann, owner of Ballymena First Aid, on 07799 142 534. You can also email danny@ballymenafirstaid.com.
See more on their website here of what Ballymena First Aid can offer in terms of first aid training for everyone in the community, including the mini medics course for the younger ones. They also offer first aid delivery at events and give educational talks.