It's The Maine Man! – Delivering soft drinks for 70 years
Maine Soft Drinks
Does the phrase 'It's The Maine Man' bring back childhood memories of seeing the weekly delivery of fizzy drinks to your door? What was your favourite flavour? I know for me it was Cloudy Limeade and American Cream Soda. The good news is that Maine Soft Drinks are still delivering their fantastic range of soft drinks and this year sees them celebrate 70 years in business!
A little bit of their history.
It all began even further back in 1919 when the Harkness family established the Braid Mineral Water Co in Ballymena. Then in 1949, 70 years ago, John Harkness who was the founder's son branched out on his own and formed Maine Soft Drinks. In 1959 the business relocated to Ballymoney and it continues to flourish there. The company is still owned by the Harkness family and is now into its 4th generation.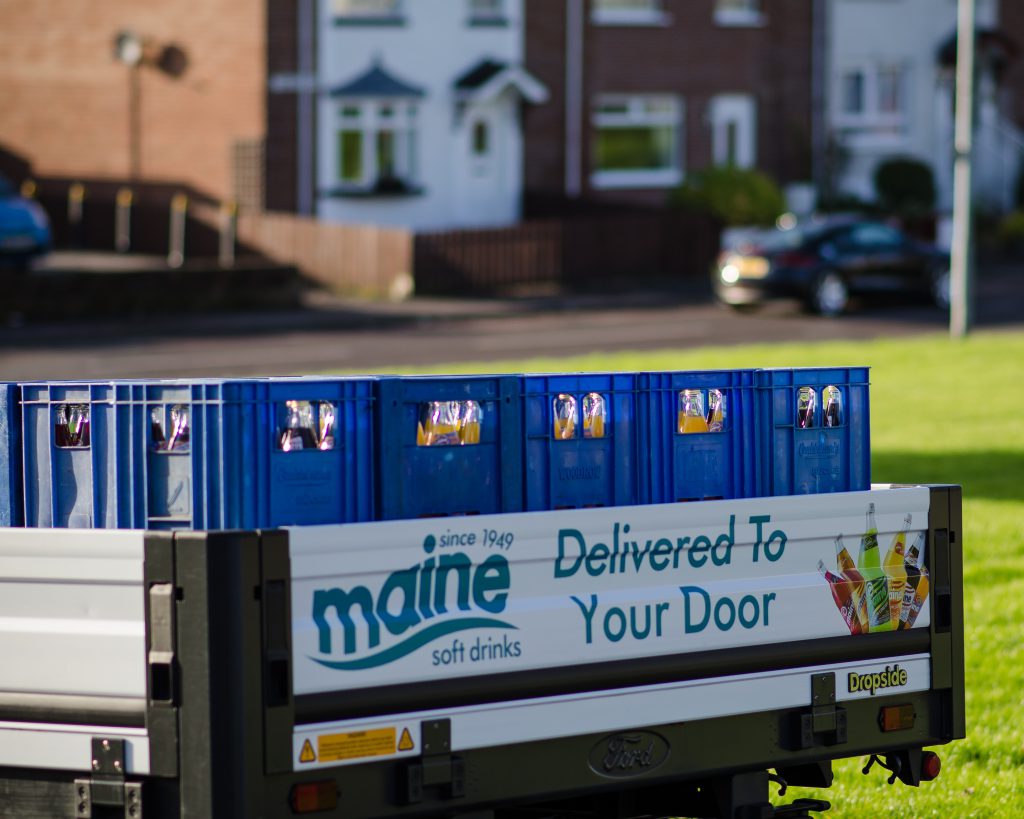 Maine Soft Drinks today.
Moving forward to today and Maine Soft Drinks now employ over 100 people all over Northern Ireland. The company has expanded a lot since those early days. Initially they only focused on home deliveries and The Maine Man and his delivery van were a common sight on our roads. Now you'll see Maine drinks in many of the local supermarkets and shops. Look out for their 70th anniversary retro style wooden crates in the aisles. But they are keen to stress that the doorstep delivery service is still a major part of their business.

The Maine Soft Drinks range has some amazing flavours. They still produce all the old favourites like Sarsaparilla, Splice, Brown Lemonade, Pineappleade and many more. They have now introduced some sugar-free options and we can't forget their Kali Water which some people wouldn't be without for easing indigestion!
Also to coincide with the 70th anniversary, look out for the new shop displays of Refresh flavoured still water. It is a sugar-free range and made with natural flavourings. Vitazade is also made by Maine Soft Drinks and will be given a revamp as part of the celebrations.
So as the company says, "Although The Maine Man has reached the retirement age of 70, he has no intentions of setting down his bottles just yet!"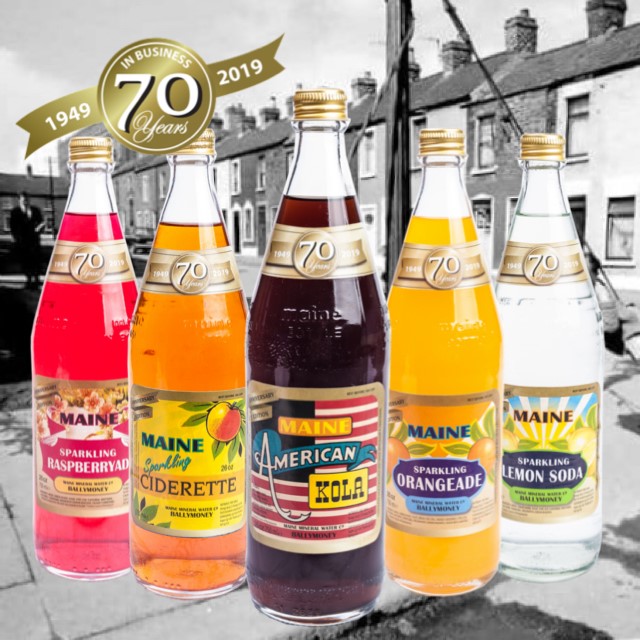 It's easy to order from The Maine Man online.
Hopefully this has rekindled happy childhood memories for many of you. If its been years since The Maine Man was on your doorstop why not click here to go to the Maine Soft Drinks website and place an order for some of your favourites.
We love the 1949 Anniversary Case – 12 x 750ml bottles of an assortment of 5 of the original flavours including American Kola, Orangeade, Raspberryade, Lemon Soda and the re-launch of Ciderette. They'll be delivered in no time at all and you can sit back and enjoy a bit of nostalgia.
Find out more about The Maine Man on their website here. You can also find them on Facebook here.