Ballymena Festival of Steam and Transport – Ballee Playing Fields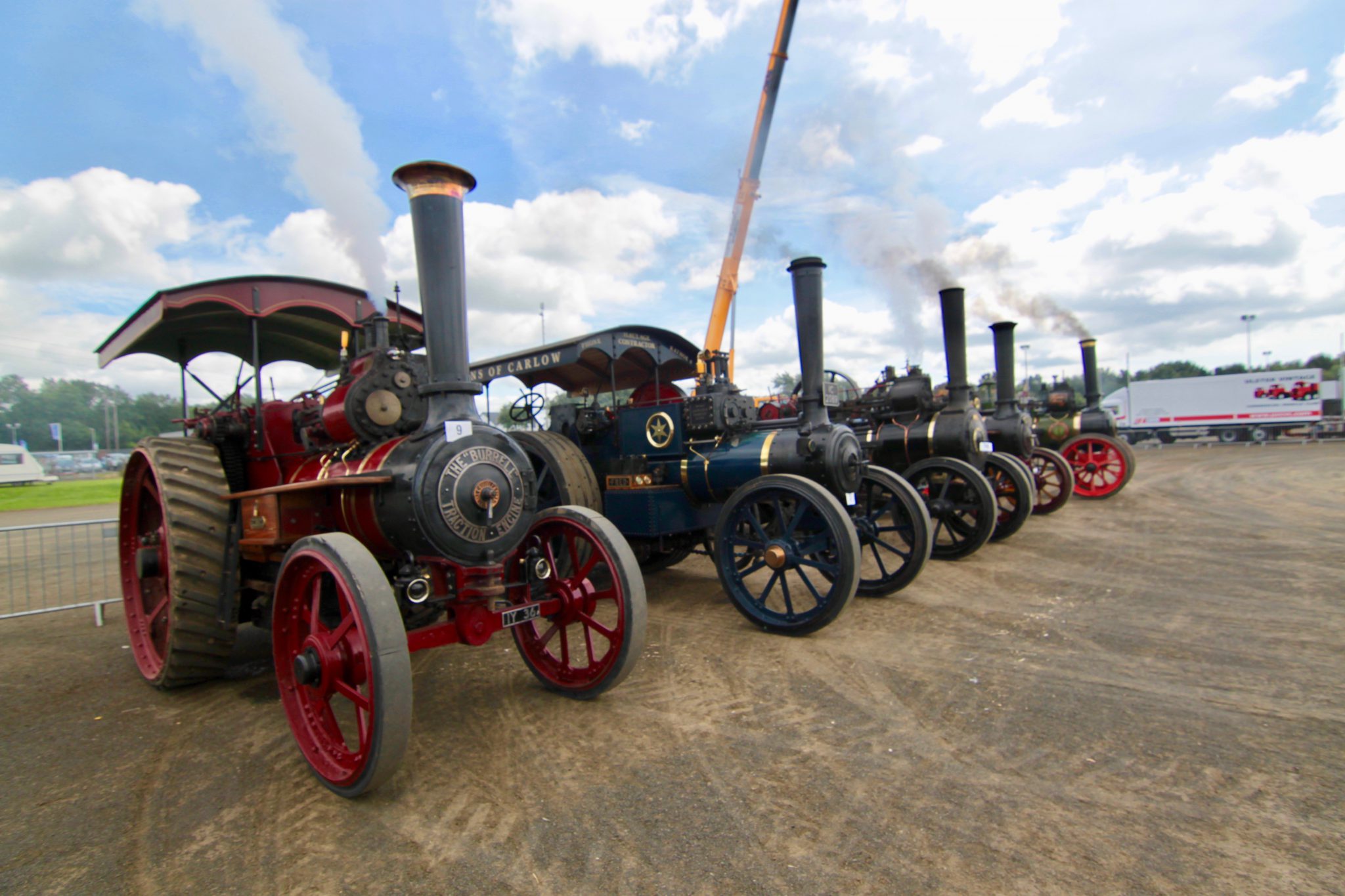 The Ballymena Festival of Steam and Transport – Friday 19th & Saturday 20th July 2019 at Ballee Playing Fields.
Two days of steam engines, tractors, cars, bikes and so much more as the Festival of Steam and Transport comes to Ballymena.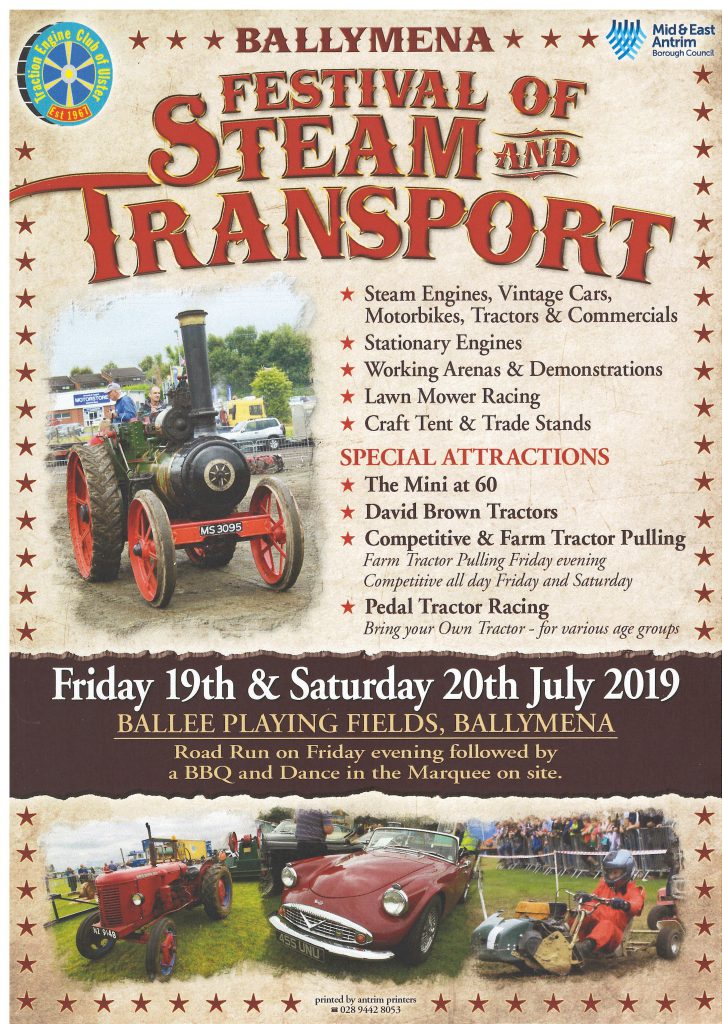 We spoke to the organisers, the Traction Engine Club of Ulster, to find out what you can expect to see.
"This year's Festival of Steam & Transport will again be held at Ballee Playing Fields, Ballymena.  The event runs from 10am on Friday with Agricultural Tractor Pulling running till dusk. On Saturday the Event will run from 10am till 5pm. Commentator Peter Love will be present on both days.
A selection of Steam Traction Engines and Rollers will be in steam and various demonstrations will take place throughout the event featuring sawing, stone crushing, Threshing and other traditional skills. powered by steam or by Vintage Tractors
The 'Mini' at 60
This year we are celebrating the 'Mini' at 60 and hope to have a large display of Mini cars and Mini derivatives present along with other Vintage and Classic cars."
Ballymena Today spoke to Causeway Coast Mini Club who will be represented at the event. Member Allan Elder has written a great article on the history of the Mini. In it he says, 'In the mid 1950s the British Motor Corporation, as Britain's largest car manufacturer, became very concerned at the increasing number of foreign made small cars on British roads, so it commissioned it's chief design engineer to build a small car to compete with these imports…….The resulting Austin Seven/Morris Mini Minor was launched to great acclaim in late August 1959 and would go on to win a place in the hearts of anyone who would own or drive one over the next sixty years!' Read Allan's full article here. Also thanks to CC Mini Club member Noel Gault for supplying the 'Mini' photos.
The organisers continued,
"We are also celebrating David Brown tractors which reach various milestones this year and again we expect a great turnout of various tractors including a selection from Pre 1930.
Examples of Motorbikes and Commercial Vehicles will of course also be present as will a large selection of Stationary Engines.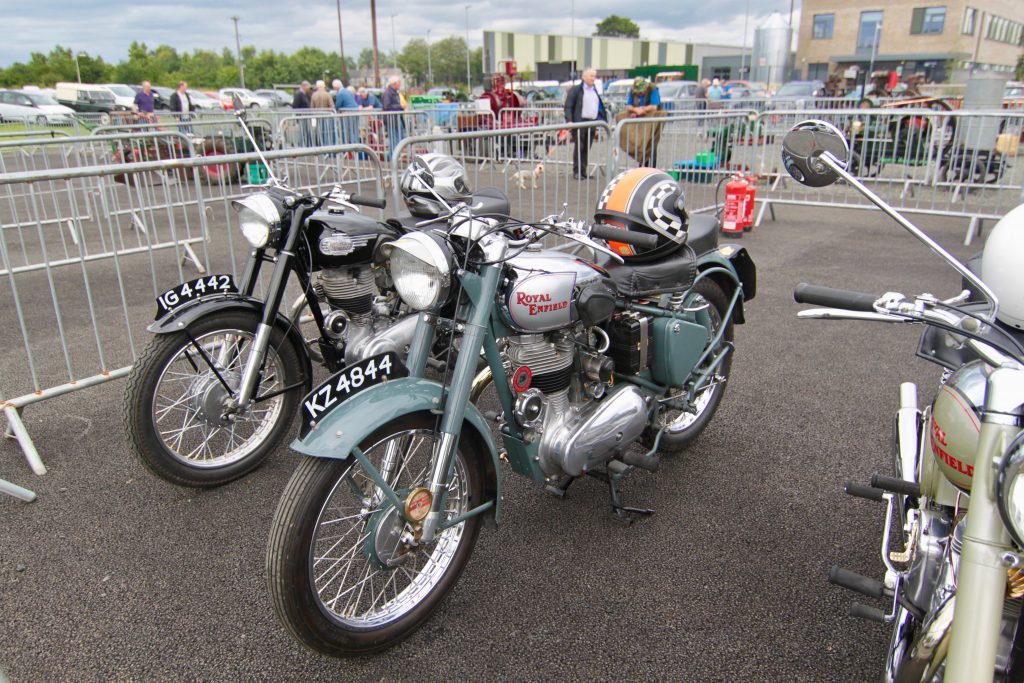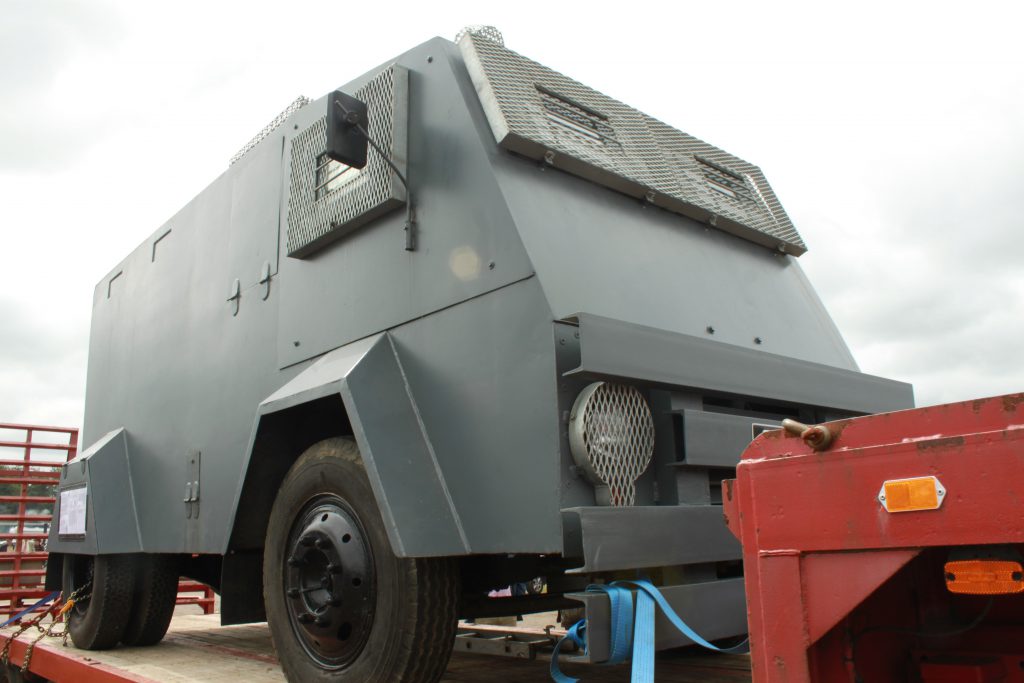 Competitive Tractor Pulling
This will be a major feature on Friday and Saturday with modified tractors from Ireland and Scotland competing. This includes a tractor fitted with the engine from a 38 Litre T38 Transmesh Russian Tank!
Back due to popular demand we will have Lawnmower Racing.
This sport has taken off across Northern Ireland and attracts many spectators to watch modified ride on mowers race around a twisty and bumpy course competing for various trophies.
The Ballymena Festival of Steam and Transport is a family friendly event
NEW FOR 2019 Pedal Tractor Racing – an event for the children to get involved in
Children are invited to bring along their own pedal tractor to take part in some races. The races will be divided into various age ranges and should be very entertaining for competitors and spectators alike.
This year a larger funfair will be present to provide more family entertainment.
As always there will be a Craft Tent, Trade Stands, Food Outlets and Ice Cream Vans at the show.
Entrance fees are – Adults £10 – Senior citizens £7 – Under 16 FREE
Visit:  www.ulstersteam.co.uk or https://www.facebook.com/UlsterSteam/ for more details."
Why not take the family to this fantastic 2 day Ballymena Festival of Steam and Transport at Ballee Playing Fields.