Ballymena Lawn Tennis Club Annual Junior Tennis Festival 2019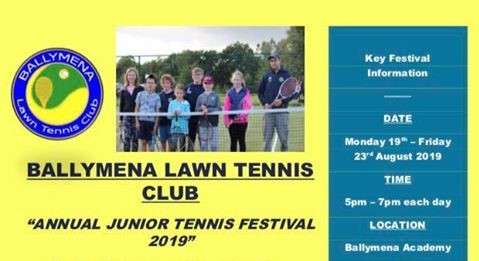 So Wimbledon is over for another year but in Ballymena the Ballymena Lawn Tennis Club Annual Junior Tennis Festival 2019 will soon be getting underway. Five days of fun, games, coaching and prizes. All coaching and play is supervised by BLTC Professional Tennis Coaches and assistants. Here's the relevant information –
DATES – from Monday 19th to Friday 23rd August 2019
LOCATION – Ballymena Academy
TIME – 5pm – 7pm each day
AGE -from 5 – 16 years of age
ENTRY FEE – Non-members £30 and BLTC members £25
There is a limit of 40 spaces for the Annual Junior Tennis Festival 2019, so to book your space contact club chairman, Fergus Barklie on 028 2564 5447 or 07989 034284. You can also contact them on their Facebook page here.
Ballymena Lawn Tennis Club Annual Junior Tennis Festival 2019
They say, "Sign up for Ballymena Lawn Tennis Club's Annual Junior Festival and be part of Co. Antrim's biggest junior tennis festival!
Ballymena Lawn Tennis Club is proud be known as Co. Antrim's fastest growing tennis club, with almost 100 junior members! Get your child/children signed up for the week to see what the club has to offer!
There will be special membership deals for both children and families who are currently non members!
It is one of the biggest and best attended summer festivals in the Ballymena area! The festival is for both beginners and regular tennis players! We look forward to seeing you there!"
So if you have a young person in the relevant age bracket, this is a great opportunity for them to try out or improve their tennis skills. You can pick up an application form in town at Style N Sports, The Braid, Ballymena Leisure Centre and Ballymena Lawn Tennis Club, but you need to be quick as there is a limited number of spaces available.