2019 has been a progressive year so far for Ballyprint with lots of new equipment and technology being introduced to their Pennybridge Industrial Estate premises. As they say – Hold on! Something exciting is happening!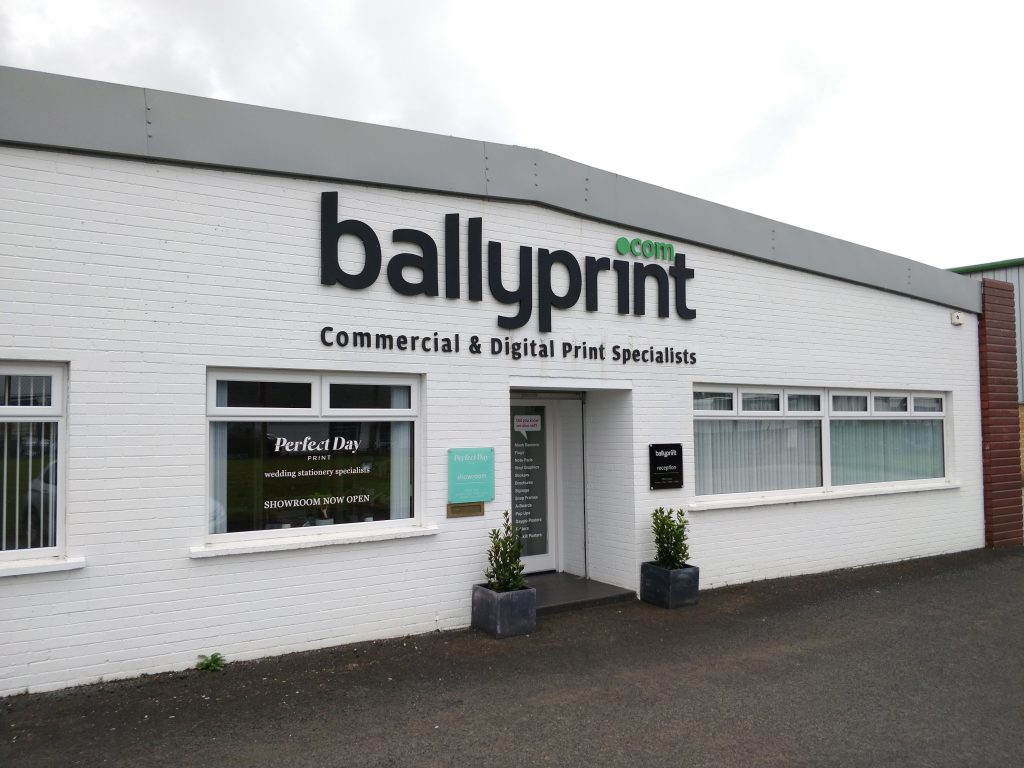 2019 additions at Ballyprint include the Xerox Iridesse Production Press
Top of the list has to be their investment in the £300k state-of-the-art Xerox Iridesse Production Press. Ballyprint are the first printers in Northern Ireland to install this machine.
With every business and organisation wanting to make their promotional material more eye-catching, the new Iridesse provides Ballyprint with the opportunity to do this for their clients. Aaron Klewchuk, owner of Ballyprint, says, "This machine now lets us produce printed material with an iridescent rainbow of metallic hues. We can also introduce gold, silver and white ink in one single pass. This equates to amazing printed material with colours and striking effects not possible until we installed this machine. It also allows for fast turnaround times and at a relatively low cost."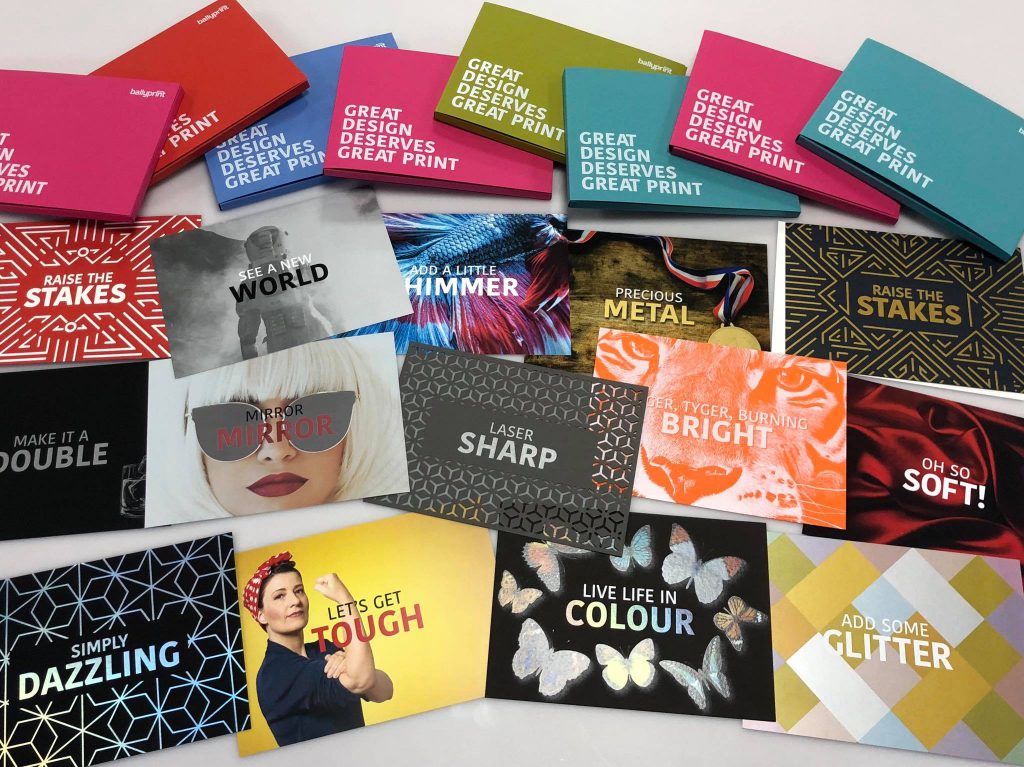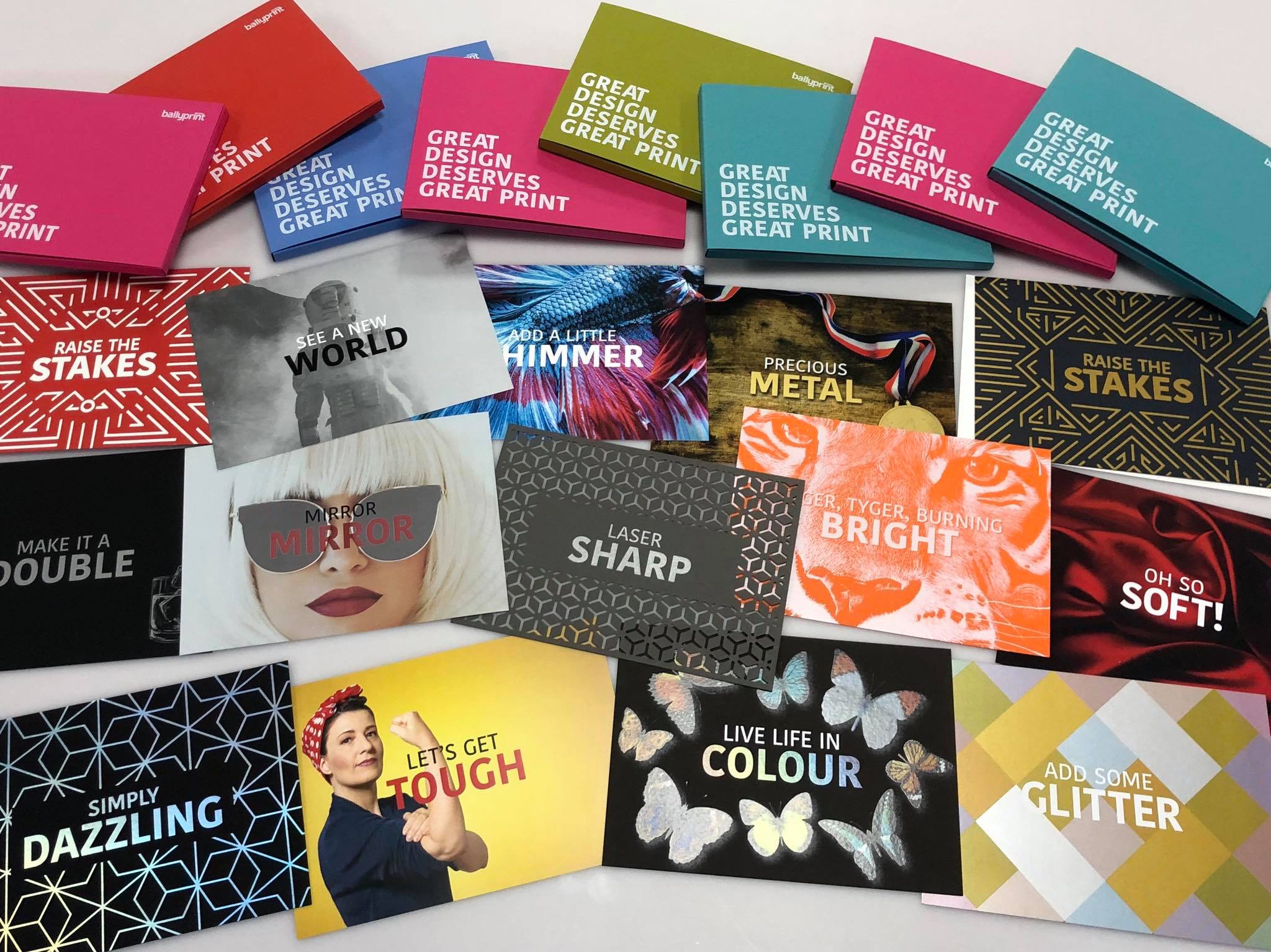 The photo above shows a Xerox Iridesse sample pack illustrating many of the creative options available at Ballyprint. If you're a business/organisation owner and would like to see more, these sample packs are available at Ballyprint or you can request a sample pack by emailing hello@ballyprint.com.
Also new this year at Ballyprint are HP Scitex Flat Bed Printer, Roll to Roll Label Printing, Komfi Amiga laminating machine and the Heidelberg Foiling Platen. These, along with other additions and improvements, are ensuring that Ballyprint stays to the fore in the printing world and means their customers are always getting the most modern and up-to-date printed material available.
Ballyprint work with many local businesses and organisations.
We've put together a selection of just a few recent jobs completed for Ballymena businesses and clubs. These let you see some of the different ways in which promotional material can be used to highlight your product or service.
And of course we can't forget Spencer! Spencer is quite often there to welcome you to Ballyprint!
Tri-fold menus
Vinyl wall graphics
Magazines & brochures
Spencer will often welcome you to Ballyprint!
If you would like to find out more about what Ballyprint could offer your business, organisation, church, club etc then get in touch with them and they will be glad to help. Phone 028 2563 9371 or call into the office at 17a Pennybridge Industrial Estate, Ballymena BT42 3HB. Keep up to date with all the news at Ballyprint on their Facebook page here.