The Dojo Martial Arts and Fitness Centre in Woodside Ind. Estate, Woodside Road are hosting a Women's Empower Self Defence Course on Saturday 11th January 2020 in support of Women's Aid ABCLN. The event will run from 12:30 to 14:30 and costs £10 per person with funds raised going to Women's Aid. The Dojo say, "This is one day every woman should attend. It will be well worth the investment in both time and money." So ladies, you can get your tickets on the eventbrite website here and keep up to date with news and events at The Dojo on their Facebook page here.

The Women's Empower Self Defence Course on Saturday, will give all ladies who attend the 2 hour workshop, some effective tips and techniques to help keep them safe. The Dojo, talking about the workshop said, "Have you ever had to walk home alone in the dark or wait for a bus on a deserted street? Do you feel uncomfortable sometimes, even in a public setting, where someone is invading your space or creeping you out? Have you young daughters who you constantly worry about in these days of spiking drinks and date rape? One in four women will experience domestic violence in their lifetime, and here in Northern Ireland police respond to an incident of domestic abuse every 17 minutes.
We have a team of experienced martial arts instructors, both male and female who have trained further in the skills of Self Protection. 
This intensive two hour workshop will give you a fantastic overview and some tips and techniques that really work – even in that short window of training time – along with a useful ebook of information."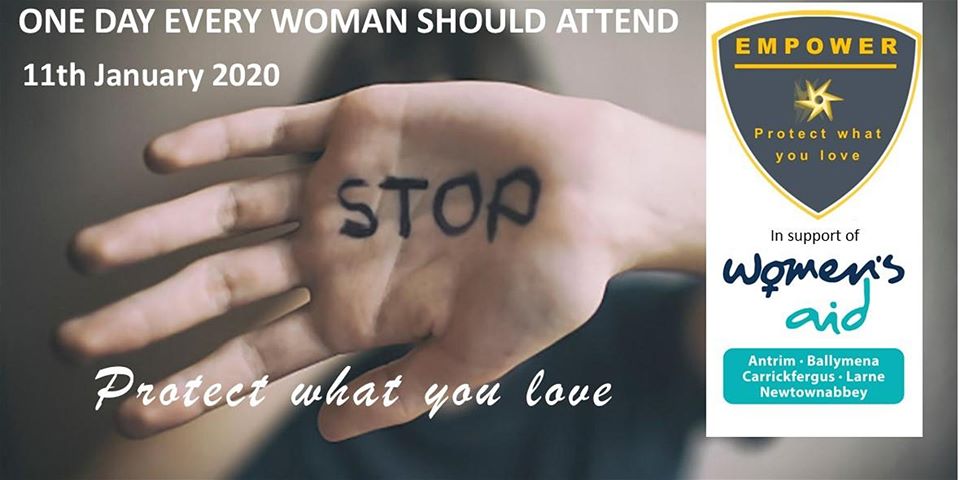 The Dojo Women's Empower Self Defence Course
Saturday 11th January 2020 from 12:30-14:30
in support of Women's Aid ABCLN
They continued, "This course is in full support of Women's Aid ABCLN – who work tirelessly 'until women and children are safe'. Domestic violence is a growing cancer in our society. The Dojo works to instill discipline and respect in our young people to grow up to be better adults and promotes healthy social interaction and relationships.
Now we want your help to get behind us to raise funds for the women and children who are affected by this violence in their home – and every penny raised will be donated to Women's Aid ABCLN.
Please support this event – it is one day – two short hours – that no woman can afford to miss. It is your opportunity to donate and support other women, but actually receive a whole lot in return.
There will be a follow up of a full 6-week Empower Self Defence programme for those who wish to expand their knowledge further. (Tickets on Eventbrite also)"