Calling girls everywhere! Come on; face it – who doesn't like treating themselves every so often? It often doesn't feel like I get a lot of time to do that, so when I do, I make it count! Here are some of my favourite things I like to use on those special occasions…
Face mask – "7th Heaven"
I never used to use face masks, and was never interested in them. However, after using these a few times, I can't help but love them! "7th Heaven" has many different types of face masks, such as mud packs, peel-offs, saunas and more! They have many different "flavours" as well, ranging from Pineapple, Green Tea, Manuka Honey, Creamy Coconut and even Strawberry Soufflé! They work really well, and you feel fab when you take them off. Also, they are "animal-friendly", because they don't involve animals in the making of their products. These are great to use in a bath… You can buy these separately in chemists and shops such as Boot's, Superdrug and Gordon's Chemist, Ballymena.
Lush – "Yog Nog"



"Yog Nog" from Lush is a shower gel with a difference! If you are familiar with Lush and their products, you may be aware that as well as normal(ish) shower gels, they also sell shower blocks – basically a shower gel in a block form! It feels so smooth against your skin, and the smell is amazing! Also, the smell somehow works its way into your pores… meaning the smell stays with you! Unfortunately, you cannot buy this in Ballymena because it is "Lush" branded, so the closest place we can get it, is in Belfast! However, I definitely think it was worth the journey! So, if you do decide to go there, get more than one thing so that they will last you a while…
John Frieda – "Frizz-Ease Smooth Start"
John Frieda Frizz-Ease make can come in many different types and forms, for example shampoos, conditioner and serums, and can be "Miraculous Recovery", "Flawlessly Straight", "Dream Curls", and many more. Buyers get the one they think is most suitable for their hair type. The shampoo and conditioner which I got, "Smooth Start", was a Christmas present. (I hope the person who gave me it wasn't trying to hint something!)It basically gets rid of frizz, and leaves your hair looking really smooth and soft. I think it is really good, and so I don't use it all the time – only every so often so I don't use it all up! You can find these and the whole range in Boot's, Ballymena.
Lacoste body lotion – "Touch of Pink"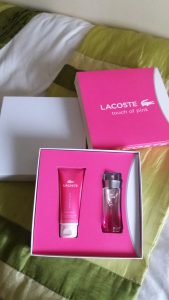 Again, this was another Christmas present! I got it from my dad, and the body lotion came in a cute box with a bottle of perfume. They both have the same scent, and it is the nicest perfume I have. In fact, I have used it so much that I have used half of the bottle since Christmas! However, the body lotion I only really use on special occasions, possibly after a bath or shower. The beautiful smell stays on you for ages afterwards, and it also smooths your skin! You can buy this by itself or as part of a set in shops such as Boot's.
What makes you relax? Whatever it is, enjoy! Tell the Youth team here at Ballymena Today!