Ballymena based Grove Vets have featured in the Irish News. The article is titled "Rise in pet obesity shows we are killing animals with kindness" and addresses the the problem of pet obesity. Grove Vets are found on the Grove Road in Ballymena and have a free nurses clinic where you can get advice and help if your pet is overweight.
Ballymena Vets feature in the Irish News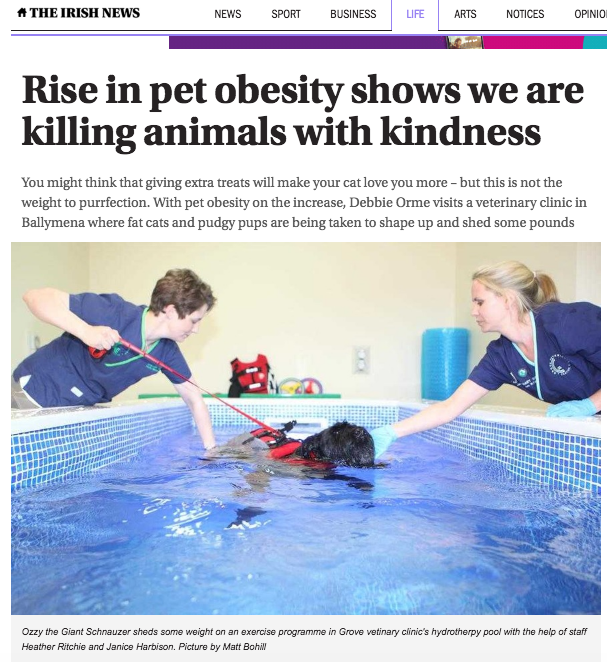 Janice Harbison from Grove Vets writes:
"Just as with humans, obesity in domestic pets is on the increase," says Janice, who runs a weight management clinic at Grove Veterinary Centre in Ballymena.

"One of the main reasons why cats put on too much weight is that owners often misread their pet's behaviour. If a cat rubs up against its owner during the day, the owner tends to think that they must want more food, so they give it to them as a way of showing the cat affection.

"Many owners also 'free feed' their cats by leaving food out for them all day, allowing them to graze at will. Unfortunately, cats aren't good at self regulating and so they eat a lot more than they actually need. As a result, vets everywhere are seeing an increase in the number of cats – and dogs – who are overweight."

"When it comes to cats – and dogs – being overweight, the problem is always overfeeding," Janice says. "Owners think they are being kind towards their pets but they're actually killing them with kindness by giving them treats, which are extremely high in calories."

To read the full article by Debbie Orme please click here.

If your pet is overweight they may be facing some serious health issues. These can include;

Development of Diabetes
Damage and strain on bones, joints and ligaments
Heart Disease and increased blood pressure
Difficulty breathing
Decreased stamina
Heat Intolerance
Decreased liver function
Skin and hair coat problems
Decreased quality and length of life

A free Weight Watchers nurses clinic is offered at Grove Vets in Ballymena where we will set a target for weight loss and also help to educate owners at the same time. If you are worried that your cat or dog may be overweight then please feel free to get in touch with Grove Vets and take advantage of their free nurse clinic to help your obese pet.