Rachel from the Ballymena Today Youth team shares her recipe from the Ballymena Academy Cooking Club. Over to her . . .
As you may already know, my HE (Home Economics) department at Ballymena Academy has recently started a small cookery club for certain pupils interested in entering the "Whizz Kids" cookery competition in September/October time. There are roughly 6 groups of 2 pupils each in this club, and have been either chosen or recommended by an HE teacher at our school.
In case you missed my last blog on 'Death by Chocolate' Salted Caramel Brownies, you can catch up here to find out more!
So, last Thursday, 9th June, we made 2 cheesy lasagnes per group. Here's the recipe we used below, and we used two long, thin containers (see picture!) to arrange and cook ours in. Our teacher said that you could even double the recipe and fill a large dish!
So, what are you waiting for? Get the oven on and surprise your friends or family tonight with this easy, yet delicious, cheesy lasagne recipe!
Cooking Club at Ballymena Academy -Take 2
Ingredients – Makes 2 small, long dishes (see picture)
200g minced beef
½ onion and 1 clove of garlic
1 tablespoon olive oil
½ teaspoon mixed herbs
400g carton chopped tomatoes (we used Sainsbury's Basics)
Few gratings of parmesan cheese
Cheese Sauce:
275ml milk
25g margarine
25g plain flour
¼ tsp ground nutmeg
50g cheese
Pasta:
4 lasagne sheets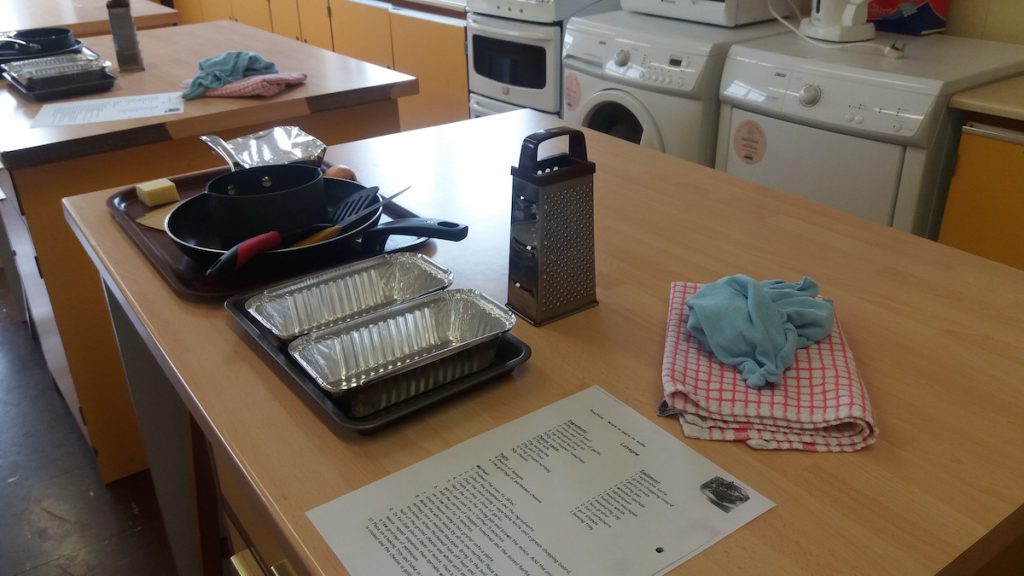 Method
1. Preheat the oven to 180°C.
2. Collect the equipment and the ingredients.
3. Chop the onion using a vegetable knife.
4. Crush or chop 1 clove of garlic.
5. Heat the oil in the frying pan and brown the mince. Add the onion and garlic and cook for a further 5 minutes.
6. Add the carton of chopped tomatoes and the mixed herbs. Allow to simmer on a low heat for 5 minutes.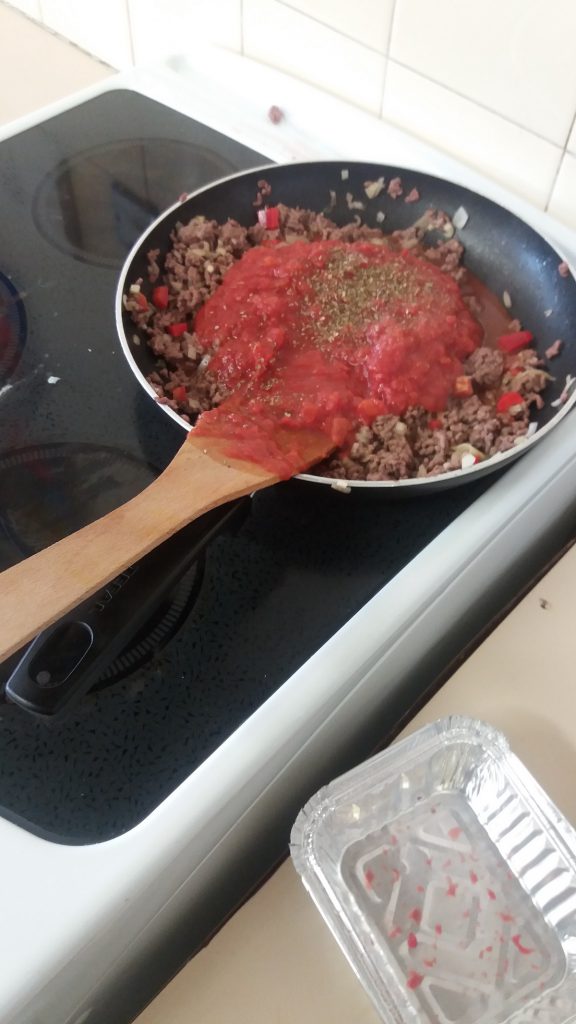 7. Grate cheese using a box grater onto a plate.
8. Make the white sauce by all-in-one method: place milk, flour, margarine and nutmeg into a medium saucepan. Bring to the boil, whisking all the time until thickened. When thickened, take off the heat and place onto a pot stand. Add half the grated cheese and whisk until smooth.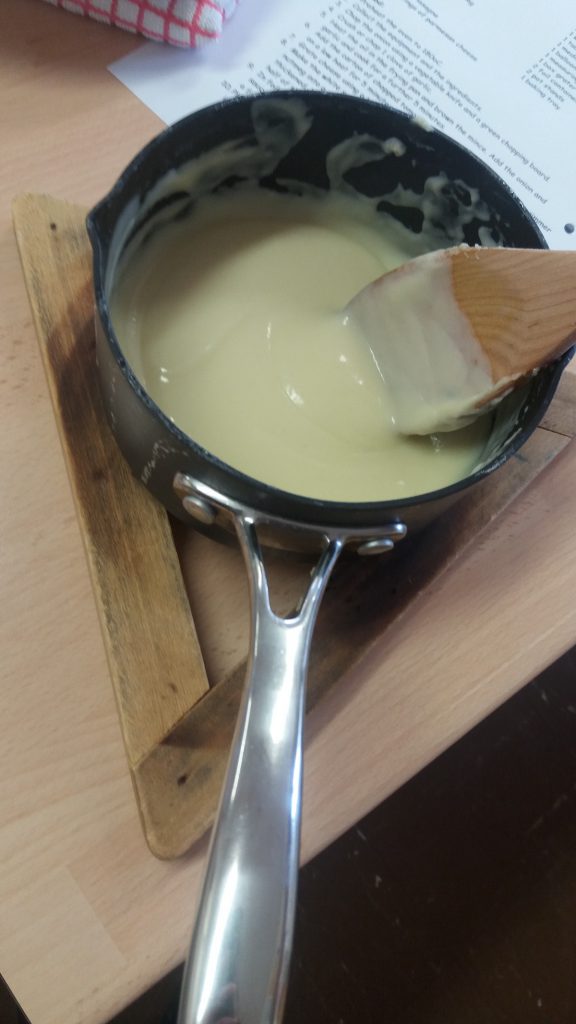 9. In foil dish place a layer of mince, then a lasagne sheet, a layer of cheese sauce, repeat sequence then sprinkle with the remaining grated cheese and a few greetings of parmesan.
10. Place on a baking tray and bake in oven for 30 minutes until the pasta is cooked and cheese is golden on top.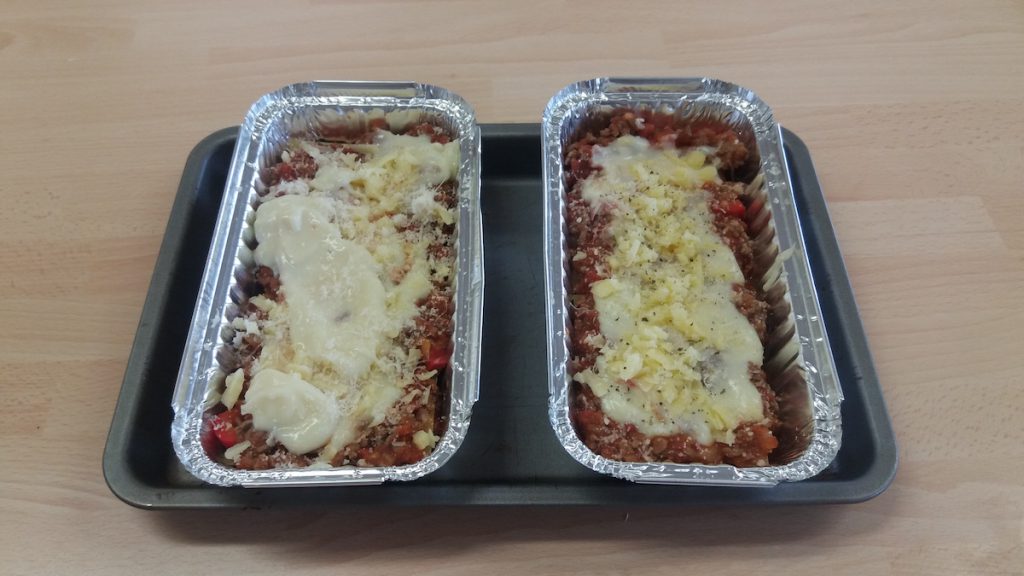 Here are some tips to bear in mind before you start:
I would recommend crushing the garlic as opposed to chopping (that's what I did), as I think this gets the flavour more evenly spread out throughout the lasagne!
When making the cheese sauce, do not stop stirring, especially at the beginning! Keep your eyes on it like a hawk, and keep stirring to avoid any ingredients sticking to the bottom!
If you are worried that your sauce is not thickening up, don't worry – give it time.
Don't be too generous when dishing your bottom layers of mince and/or sauce – you might run out by the time you get to the top layer!
Finally, it's a good idea to let your layered, uncooked lasagne to sit for a while just before putting it in the oven – this lets the pasta sheets absorb all the yummy juices and for the flavour to get through the whole thing! When you do this, you need only cook it for about 20 minutes.
With all this in mind, you can go and easily cook up tonight's dinner and please your mum – just don't do it too well or you might just get a permanent job…‼ Happy baking!