Cooking Club at Ballymena Academy
Rachel from our Ballymena Today youth team has been involved in an exciting new club at Ballymena Academy. We will let her tell you all about it!
On Thursday 2nd of June, it was the first time that there was a cooking club in Ballymena Academy. It was organised and arranged by one of our own HE Department teachers. It is being held in preparation for the upcoming 'Whizz Kids' competition, in September/October time. At the 'club' there were approximately 6-8 teams of 2 people and the pupils were either personally invited to come by our HE teacher involved, or had been recommended by other teachers. The main thing is, we all love baking!
We are now meeting every Thursday after school until the end of the school year and we are going to be making a wide variety of dishes, ranging from delicious sweet deserts to main dishes, which you could have for dinner!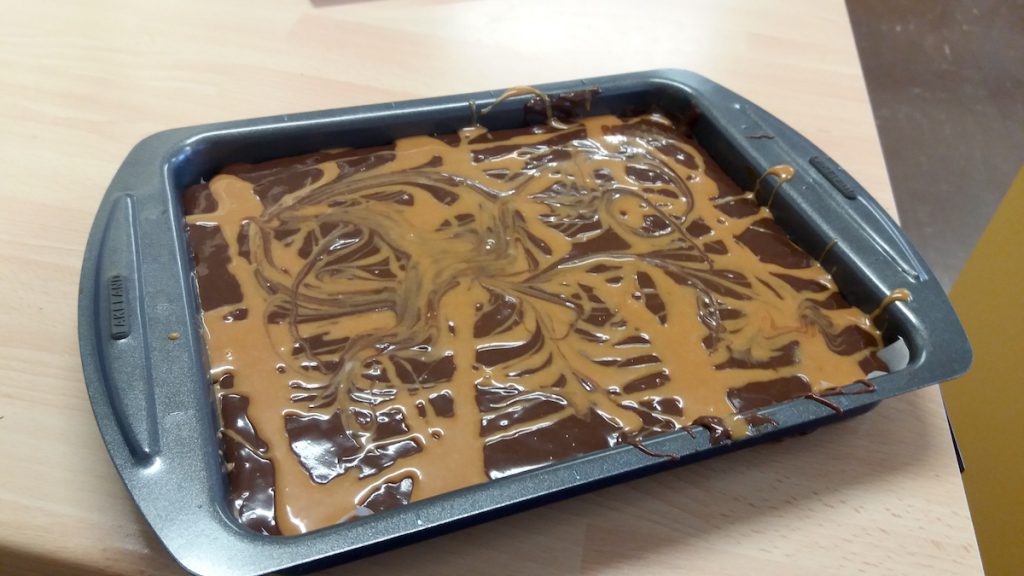 For our first 'club' we made SALTED CARAMEL BROWNIES! We were so excited‼ It took about an hour to make in total, by both following a recipe and our teacher telling us all what to do as a whole group.
We may not be Mary Berry or Jamie Oliver, but we still managed to make a "death by chocolate" fudgy brownie, designed to make your mouth water. Here's the recipe which we used below, taken from BBC Good Food:
Ingredients – Makes 16 larger or 32 bite-sized brownies
200g unsalted butter, plus a little extra for greasing
100g chocolate, 70% cocoa solids
100g chocolate, 50% cocoa solids
397g can Carnation caramel
1 tsp flaky sea salt, plus a little extra for the top
200g golden caster sugar
4 medium eggs, at room temperature
130g plain flour
50g cocoa powder
Method
1.Heat oven to 180C/160C fan/gas 4. Grease then line a 23cm square traybake tin with baking parchment. Melt the butter in a medium pan, break in all the chocolate, then remove the pan from the heat and wait for the cubes to melt.
2. In a small bowl, mix 175g of the caramel with 1 tsp sea salt – it will loosen up. Put the rest of the caramel in a large bowl with the sugar and eggs, and beat with an electric hand mixer or balloon whisk until even.
3. Whisk in the chocolate and butter. In another bowl, combine the flour, cocoa and a good pinch of table salt, then sift this on top of the chocolate mix. Beat briefly until smooth.
4.Pour half the brownie batter into the tin and level it with a spatula. Using a teaspoon, spoon half of the salted caramel on top of the batter layer in 5 thick, evenly spaced stripes. Spoon the rest of the brownie batter on top and smooth it out, trying not to disturb the caramel beneath. Top with the rest of the caramel in the same stripy fashion. Drag a skewer or tip of a knife through the caramel to make a feathered pattern on the top.
5. Scatter with a little more sea salt, then bake for 25-30 mins or until risen all the way to the middle with a firm crust on top. When ready, the brownie will jiggle just a little when you shake the tin. Let it cool completely in the tin, then cut into squares.
Recipe from Good Food magazine, March 2015
When I made these and brought them home, I soon became my dad's "favourite" child…So maybe if you make it, you'll become someone's "favourite" too!
See you next week for an update on what we've been up to at the Ballymena Academy Cooking Club! Happy baking!