Fancy a Frozen Yoghurt in Ballymena? Rachel from our youth team did and here is where she headed for the perfect treat: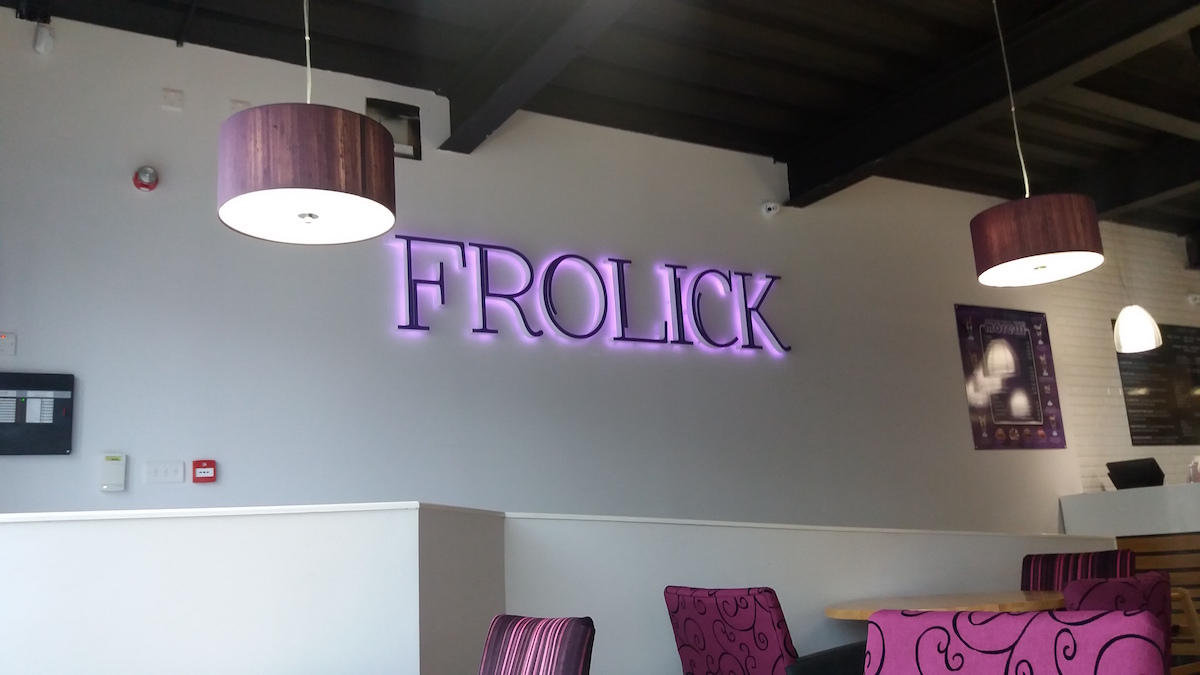 About a month or so ago, I was exploring Ballymena again for good coffee shops, and this time I went to Frolick on Springwell Street in Ballymena! 'Frolick' opened at the beginning of June this year, and based on what I've seen, I'm sure the business has been going great! (I certainly love it, anyway…!)'Frolick' specialises in frozen yogurt and ice cream. I had never had frozen yogurt before at a coffee shop, so the first time I went, I was quite excited to see what it was like!
At my first time at Frolick, I was really impressed by the overall design inside – the colourful, comfy chairs, the lighted signs, the wacky wallpapers, and of course the food!
They do frozen yogurt (in Strawberry, Original, Pink Bubblegum, Forest Fruits, Watermelon, Chocolate and Lemon flavours!), ice cream (in too many flavours to list‼) – also available in mix-ins – and smoothies, milkshakes, hot and cold drinks, sandwiches/paninis/wraps, cakes and traybakes, crepes, waffles and snacks! What more could you want? Also, they will post on Facebook any new changes in the menu, as well as special offers and new updates!







Frolick bring Frozen Yoghurt and more to Ballymena
So, when I went, I got an original flavour frozen yoghurt, with strawberries and chocolate swirls, and a large cappuccino – all for under a fiver! And the best part – they both tasted amazing‼ The frozen yoghurt was so yummy and sweet, and the cappuccino was done to perfection!
Also, the staff were very friendly, and brought over the cappuccino over to my table. In fact, when I was there, a little girl at another table got something spilled down her, and one of the staff helped her clean up!  Frolick may also have deals from time to time… so keep an eye out on their Facebook page for any new offers!
So, overall, it was amazing. Such a relaxed atmosphere, and delicious food. The staff are very friendly, and the prices are very good! In fact, it was so good that I decided to go again the next day! And the next week! And the week after…‼
Have you ever tried frozen yoghurt before? Or are you simply an ice-cream lover? Whatever floats your boat, I'm sure Frolick has it covered! Click here to visit Frolick's website.