From Paperboy to Peace Builder – An Evening with Tony Macaulay will be held in Ballymena at the Braid Town Hall. It will be held as part of Community Relations and Cultural Awareness Week 2016. If the name sounds familiar it is because we have blogged about Tony's books – Paperboy, Breadboy and All Growed Up. If you have read any of his books you will know that he has a great sense of humour and great understanding of Northern Irish culture and politics. He grew up in Belfast and is a regular at book events in Waterstones.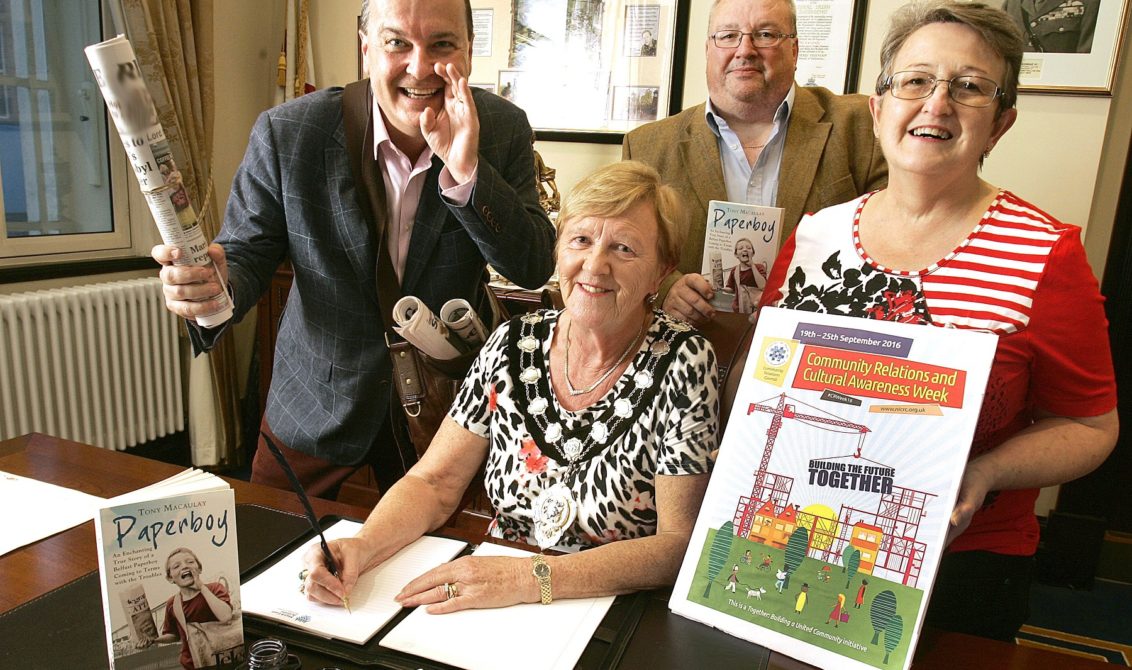 From Paperboy to Peace Builder – An Evening with Tony Macaulay in Ballymena
Join local author, Tony Macaulay, for an evening of humour and nostalgia as he reflects on his journey from local paperboy to prominent peace builder.

Listen to a reading from his debut novel and critically acclaimed memoir, "Paperboy", and hear how he uses literature as a tool for building conversations and relations across communities.

Held on Thursday 22nd September from 19.00. Includes a light supper.

FREE EVENT. Tickets strictly limited and available from Larne, Ballymena and Carrickfergus Visitor Information Centres, or contact goodrelations@midandeastantrim.gov.uk
Tony will also be in Ballymena at the Braid on Friday 16th September from 10am – 1pm. He will be hosting the "Writing our Future Together" workshop to help you create your own story and put into words  your vision for a peaceful future for our community. Again booking is essential so if you are interested email goodrelations@mideastantrim.gov.uk to book your place.
In the mean time we suggest that you pick up Paperboy by Tony Macauley – available from Waterstones in Ballymena.