Today is World Book Day and that explains why you might have spotted a little Harry Potter, a Gruffalo, Matilda and Where's Wally in Town. Why? Because lots of Ballymena schools celebrate World Book Day by dressing up as they favourite character from a book.
Ballymena celebrates World Book Day –  THURSDAY 2ND MARCH!
Waterstones in Ballymena are all ready to celebrate World Book Day too – just take a look below:
World Book Day, in partnership with schools all over the country, will be distributing more than 15 million £1 World Book Day book tokens to children! When you get your book token, bring it to Waterstones Fairhill and swap it for one of the TEN (exclusive, new and completely free) World Book Day books!
Or, if you'd prefer, you can use your book token to get £1 off any full price book instead! And if you'd rather get an audio book, that's fine too! It's your choice, just as long as the book or audio book costs at least £2.99!

Then all YOU have to do is take your book home and enjoy it.
The books you can chose from include Peppa Pig, Horrid Henry, The Famous Five, and include bestselling authors like Jacqueline Wilson and David Walliams. The books are all short and full of entertaining stories. That means that even if you aren't a bookworm you can find something that you enjoy. There is something for every age group as is explained at the World Book Day website:
Our ten official World Book Day £1 books cater for all ages from pre-school through to young adults. In 2017, the titles for the nation's youngest book lovers will feature beloved characters Peppa Pig and extraterrestrials from the Aliens Love Underpants series. For readers at Key Stage 1, Julia Donaldson and Lydia Monks will contribute a new Princess Mirror-Belle title and Martin Handford has made one of his Where's Wally? adventures available. They can also pick up some tips from Horrid Henry or catch up with the Famous Five, whereas Key Stage 2 readers will be able to enjoy something new from beloved British authors David Walliams or Dame Jacqueline Wilson. Young Adult titles will come from Michael Grant and David Almond, and the official World Book Day 2017 illustrator is Liz Pichon, children's book writer and illustrator/creator of the Tom Gates series.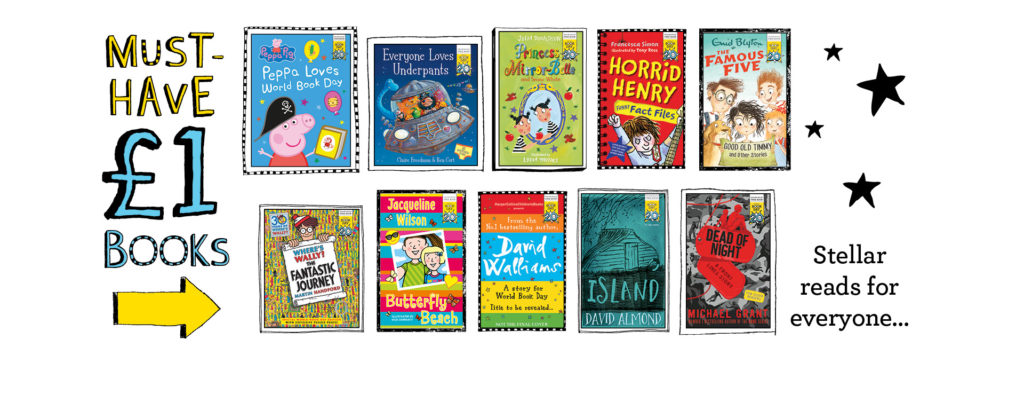 The World Book Day book tokens are valid from Monday 27 February – Sunday 26 March 2017. Make sure you head down to Waterstones in Ballymena to use your voucher.