Weddings Ballymena – Personalised Gifts and Accessories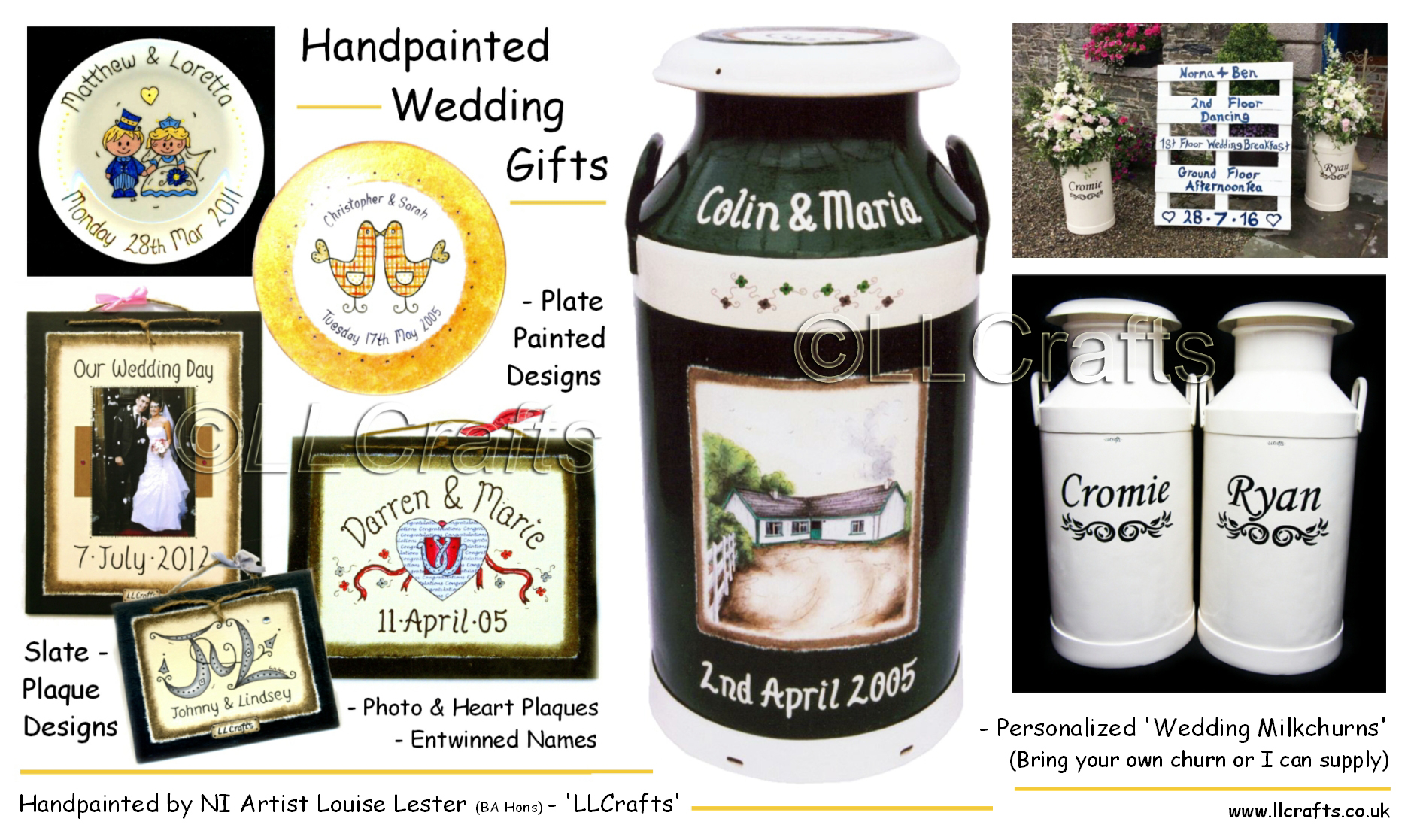 Each wedding is unique and to emphasis that uniqueness it helps to make use of personalised gifts and accessories. A local Ballymena business who offers an excellent range of personalised gifts and wedding accessories is LLCrafts. Ballymena artist, Louise Lester, who owns LLCrafts can paint names and/or messages onto almost any item!
Handpainted wedding gifts by LLCrafts.
Are you wondering what to buy someone you know who is getting married soon? Mark that very special occasion with a handpainted unique wedding gift. Personalised gifts can include the bride and groom's names, date of the wedding and usually some artwork. Some of the most popular items  to be painted on include slate tiles, ceramic or wooden plaques. Each of these items are done on commission so please allow a reasonable amount of time to have your gifts made.
Accessories for wedding hire.
A great addition to the wedding venue is a pair of LLCrafts handpainted wedding milkchurns. These are available to hire from LLCrafts (without the floral arrangements). Various other painted and unpainted Milkchurns and Milkpails are available for hire. These are all popular as wedding and reception venue  accessories. They will need to be booked well in advance.
LLCrafts offer a huge range of handpainted personalised gifts and accessories for weddings and many other occasions.
If you would like to find out more about LLCrafts range of personalised gifts and accessories for weddings then get in touch with them. Phone 028 2564 3505 and you can speak to either Gloria or Louise. Alternatively you can catch up with them on Facebook here. To see more of the huge range of artwork offered by LLCrafts click here to go to their website.
Would you like to learn to paint yourself? Get in touch with LLCrafts if you would like to join any of their art workshops or weekly painting classes. Tutor artist Louise Lester has over 10 years teaching experience and regularly offers courses in their studio in Galgorm and other local cross-community venues.