The Big Listen – Samaritans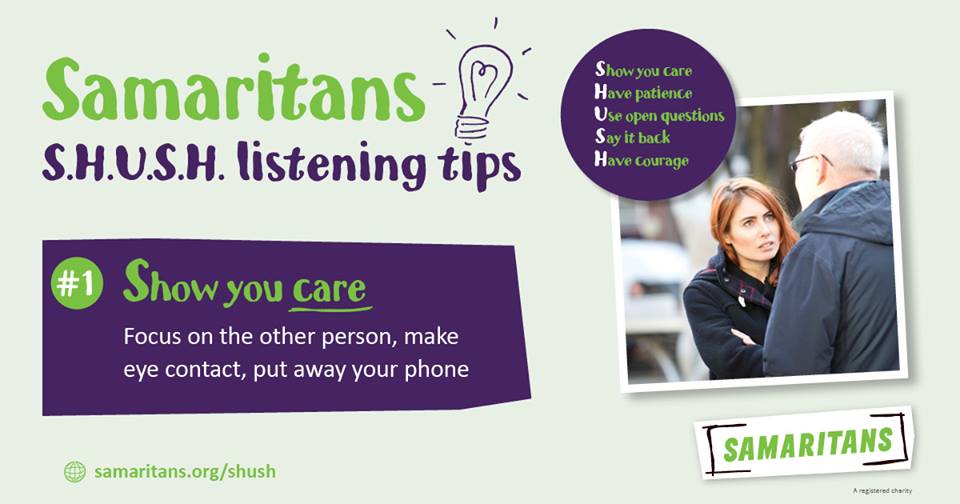 Next Monday, 24th July,The Big Listen has been planned by Samaritans. Samaritans hope that The Big Listen will emphasise the importance of listening and talking to one another. Taking time to talk is a very important and necessary thing to do in our busy lives.
That is why The Big Listen has put together a list of ways for your to become a better listener – the SHUSH listening tips. The first step is to Show you Care – focus on the person you are talking to, make eye contact and put away your phone.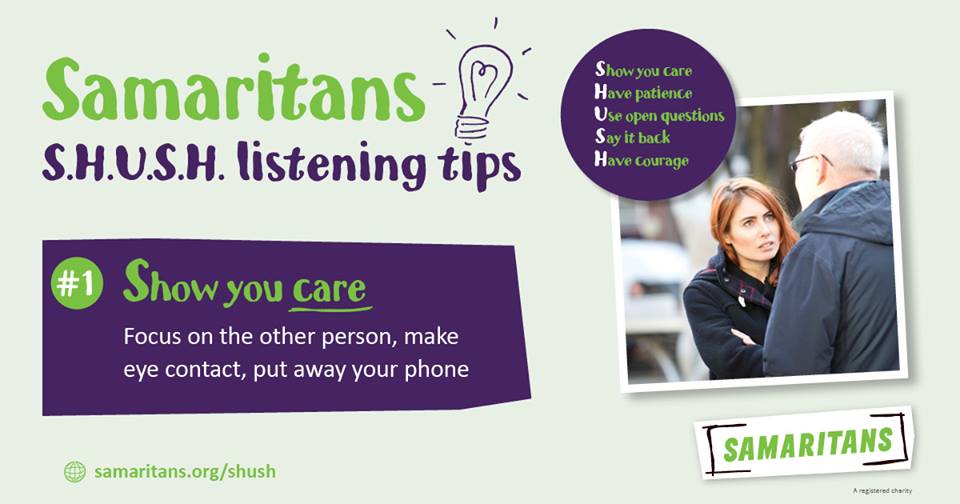 The Big Listen – Samaritans
Samaritans' Listening Tips – or SHUSH – have been devised using the 60 years of expertise in listening Samaritans has built up through its workforce of more than 20,000 volunteers.
SHUSH is Samaritans' starting point for you to be a better listener. When I speak to people as a volunteer, I use these tips to create the necessary space for people to talk. As another benefit, my personal relationships have been transformed by my ability to be a better listener. You have to practise and you have to make them a habit but print them out and use them. I can guarantee you will learn new things about those around you. (source)
Above are all five steps which follow the shush plan. Listening can be very difficult and we are all tempted to try to fix other peoples problems, or point out where they are going wrong. Next week make a conscious effort to change the way you talk to other by have meaning conversations which focus on listening. For more information please visit the Samaritans website.
Please share this blog post with anyone who you feel is struggling to talk, or with anyone who you know cares for someone who is going through a difficult time.  Share the Conversation and help others to open up for The Big Listen.