Lidl Community Works Ballymena – Vote now

Lidl Supermarket in Ballymena re currently taking votes as to who will benefit from their Community Works fund. Earlier this year votes were cast and three community groups have been chosen by Lidl Ballymena.

Lidl Community Works Ballymena – Vote now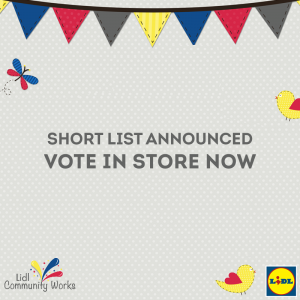 Now voting continues to see who will take away the top funding of £4,000 while the other two runners up will receive £1,000 each. Here are the community groups who you can vote for.
1/ Portglenone Community Rescue Service
2/ Good Morning Ballymena
3/ Kells and Connor Citizen Luncheon Club
Three great community groups. We have written about both the Portglenone Community Rescue Service and Good Morning Ballymena. In order to vote for the community group which you would like to see using the cash then head into the Ballymena Lidl store. Once you are inside go through the checkout and  you will find a voting station. There you can place you vote for the Community Group which you are supporting.
The Lidl Community Works initiative provides support for community groups. It is run throughout Northern Ireland.  Each year every Northern Ireland Lidl store, which is about 38 in total, make £6000 available to local community groups. Please head down to Lidl in Ballymena now to vote for a local community group to receive this funding.