In Ballymena White Gold Jewellery can be refurbished at Robert Adair Jewellers. The local Ballymena jewellers have a workshop with all the equipment needed onsite, meaning you don't have to send your precious jewellery away.
White Gold Jewellery can, after time, become dull or yellowy. While a gentle brush with soapy water can remove dirt and grime – it won't deal with the discolouration or restore that beautiful sparkle.
Refurbish White Gold Jewellery – Ballymena
Restoring White Gold jewellery involves polishing the item to a high finish and then applying a rhodium plating. This gives it that lovely bright white finish that you would get when the piece of jewellery is brand new. Robert Adair shared the following information on their website:
White Gold jewellery is really popular, especially for wedding bands and engagement rings. The metal looks beautiful when paired with diamonds and compliments your existing jewellery collection if your skin tone matches silver better than traditional gold. Sometimes we forget that our engagement and wedding rings go through an awful lot. We meet people who never take their off meaning it gets taken everywhere, scrubbed when folks are washing their hands and very little tlc. While soaking you ring in soapy water (nothing too aggressive) and a quick rub with a soft toothbrush will clean off any visible dirt it will not bring back that "good as new" shine that you really would like. The only option is Rhodium Plating.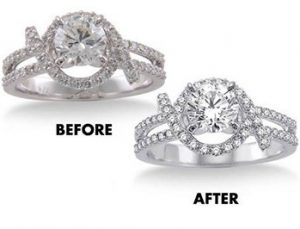 White gold by its nature cannot be "bright white" because, pure gold is not white, it is yellow of course! Even with white metal alloys mixed with gold the resulting metal still has a yellowish tinge. This is what the rhodium plating can covers. Through time this finish wears off and the item tend to look dull. But fear not, your white gold ring can be brought back to life with a quick visit the Robert Adair Jewellers. (Read more here.)
Robert Adair Jewellers have the workshop, knowhow and experience to make your old white gold jewellery look like new again. The process normally taking about a week, just pop in and have a chat with our staff and they can fill you in on all the details.
For more information on having your white gold jewellery refurbished to look like new contact Stuart Adair on 028 2565 6896. Robert Adair Jewellers have been a trusted family jewellers in Ballymena since 1957, and carry out refurbishment of white gold jewellery onsite in Ballymena.