Robert Adair Jewellers celebrate sixty years in business this year. The Ballymena business was formed in 1957 by Robert and his wife Myrtle. His son Stuart is now at the helm and together with his dedicated team are moving the business forward.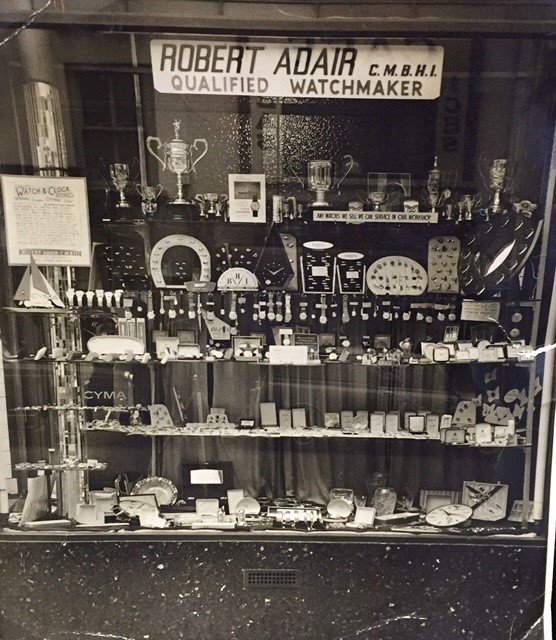 The shop has always been on Mill Street, starting off at 12 Mill St. By 1985 the business was thriving and they needed bigger premises, so they moved across the street to where the shop currently sits. By 2001 it was time for another refurbishment. They purchased the shop next door and completed major renovations to both it and the existing shop. This created the spacious and bright showroom they are currently using today.
Robert Adair Jewellers celebrate sixty years in business in Ballymena.
We asked Stuart to tell us a little bit about life in the shop over the years.
"The highlight has to be the pleasure and buzz we get from being in the position to share in our customer's special moments. Seeing their excitement as they choose an engagement or wedding ring. Helping them to choose a gift to celebrate the birth of a child, or to mark a special occasion in someone's life. 
I can't think of another retail business selling a product that will have so much personal attachment. In fact many items have and will become family heirlooms for years to come."


"Over the last number of years we've noticed a swing to 'fashion brands' of jewellery. These are very much 'of the moment' but will quite often have little or no lasting value. They will be out of fashion as quickly as they came in. On the other hand when we sell, for example, a diamond ring we know this will easily last a lifetime. Almost every week we see a piece of jewellery which would have been sold by my mum or dad. That could be up to 60 years ago but the piece is still going strong today! It's also great to hear the customer's stories about these pieces, when they were bought, the circumstances and so on. We aim to keep on creating these stories and playing our part in the special moments in our customer's lives."
Robert Adair Jewellers celebrate sixty years in business in Ballymena. Probably one of the biggest changes over that time has been the internet.
One of the biggest changes since Robert Adair Jewellers shop opened in 1957 is that the internet is now available to everyone. They have embraced that and have an easy to navigate website where you can find out much more about their history, the showroom, workshop and more. They write useful jewellery related articles which you can read on their blog here.
You can also find them on Facebook here where they will keep you up-to-date with news of some great special offers and promotions coming up soon as Robert Adair Jewellers celebrate sixty years as a Ballymena business.