Sensitive Skin – Ballymena
In Ballymena there are a few places where you can pick up sensitive skincare brand La Roche-Posay. La Roche-Posay is a skincare brand which has been designed with the help of scientists and dermatologists, in fact they are one of the best established brands to use industry experts to make sure that their products give real results. If you have sensitive skin or suffer from adult acne you may have already heard of this brand as it is often recommended by beauty experts and bloggers.
Sensitive Skin – Ballymena
Adult acne has been in the media a lot recently. La Roche-Posay have reformulated their cult product, Effaclar Duo(+) to refine it into the perfect treatment for sensitive skin that suffers from breakouts. Apply as a moisturiser twice a day after cleansing and this product claims to reduce the appearance of spots and blackheads. It also helps to reduce marks left after acne. It costs £16.
With over 30 years' research experience and 25 patents, La Roche-Posay has become a leading player in the development of products formulated for sensitive skin ensuring high tolerance and safety. La Roche-Posay creates and sells:
o Face care, among which, the Hydraphase and Hydréane ranges offer hydration for sensitive skin, Nutritic is used to help dry skin, Tolériane for sensitive skin, Rosaliac for red-prone skin, Effaclar for oily skin, Redermic to target the appearance of the visible signs of ageing, Cicaplast for irritated skin and Physiological cleansers for all the sensitive skin make up removal needs.
o Body Care, with the Lipikar range, dedicated to very dry and sensitive skin
o Skin care for skin in the sun, with the Anthelios range, for both adults and children, with ultra-high UVA/UVB protection for even sensitive skin.
o Scalp care, with the Kérium range, for dandruff or sensitive scalp concerns
o Products for sensitive skin make-up, with the Tolériane complexion correction range.
o And of course, the La Roche-Posay Thermal Spring Water, soothing, softening. It is used in each and every skincare product produced by the brand. (Source)
Woodsides Pharmacy in Ballymena currently have special Easter Offers with up to 25% off until 31st March.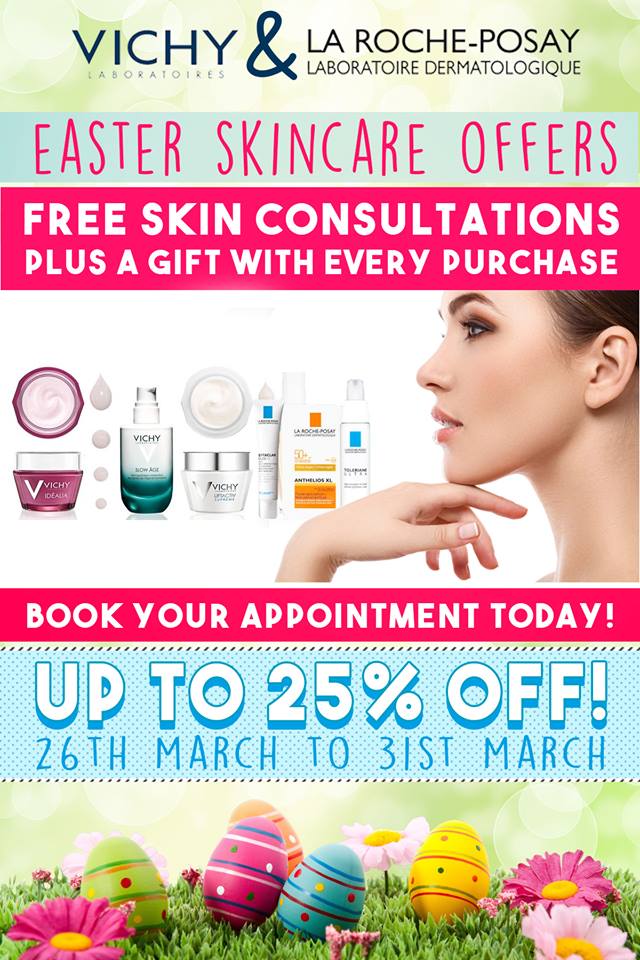 Book an appointment for a free Skin Consultations, and get a FREE Gift with purchase! Sample giveaway and BIG discounts across the Vichy & La Roche-Posay range of skincare! Book your skin consultation with Kathryn in Woodsides Pharmacy on 028 2565 2462 and if you know someone who has sensitive skin in Ballymena let them know about La Roche-Posay skincare.