A free self defence workshop is being held in Ballymena on 28th April 2018. The Free Women's Self Defence Workshop will be held at the Dojo, Woodside Industrial Estate, and has limited places so now is the time to register your interest. Click here to find out more information.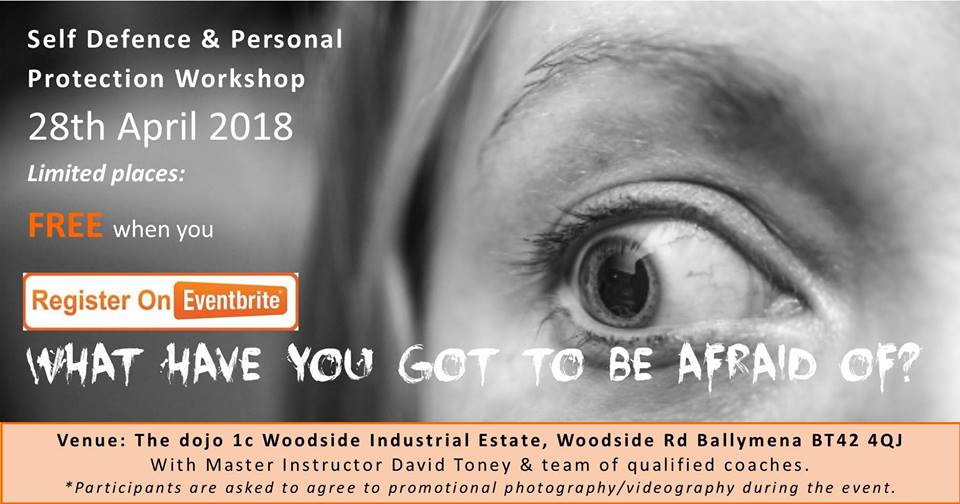 Self defence – Ballymena
What would you do if you were attacked? Worst still what would you do if your child was with you? What advice would you give to a younger sister or daughter about being safe when out and about? It is extremely important for everyone to be prepared for times like these and have the ability to pass that skill onto other family members – and that is why we take the subject of self defence very seriously. By learning the basics of self defence you help prepare yourself for dangerous and unforeseen circumstances.

During this workshop you will learn:

* Situational awareness
* Vital parts of the body that are vulnerable and easy to attack
* Basic strikes and kicks
* Defences for the most common attacks on women
* Plus a whole lot more.

Date: Saturday 28th April 2018
Time: 11.30am – 1.30pm
Location: The Dojo

Here is what Karen & Caitlin had to say about one of our courses

David and his team delivered an informative and useful women's self defence workshop today. They have a wealth of knowledge and I have also seen how they have interacted with my child in class and see the care and support she has been given – this has done wonders for her confidence. I only wish I has learned these skills years ago – it's not about the punching and kicking – it's about the way knowing these skills make you feel – David gives practical examples to give awareness, confidence and skills to defend yourself.
A massive thank you to David and his team -I definitely recommend this to others."
Please click here to find out more about self defence classes in Ballymena.