Christmas preparations are well under way in Ballymena and part of that is the annual Ballymena Methodist Church Christmas Craft Fair. This is their 9th Christmas Craft Fair which will be on Saturday 1st December 2018. It's on from 10am to 3pm and admission is only £1 each. As well as lots of craft stalls there will also be refreshments and live music periodically throughout the day.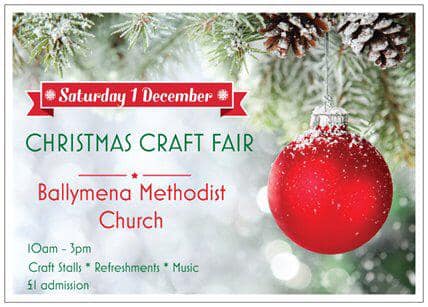 This Christmas Craft Fair organised by Ballymena Methodist is always popular with Ballymena shoppers. A great place to pick up some unique Christmas gifts. The organisers say,
"We have our regular stall holders who return year after year to support us and each year new names and businesses join us too. We have approx 20 stalls by local crafters. The items they will have for sale include baked goods, cards, jewellery, flowers & plants, beauty products, hand sewn items, etc. All unique gifts, many of which can be customised for you. We will be providing refreshments to buy alongside our craft stalls. This year we also hope to provide live music periodically throughout the day."
Ballymena Methodist Church Christmas Craft Fair will help support a great charity.
They went on to say,
"Money received from admission, table fees and the sale of refreshments will be donated to charity. Previous charities who have benefited include Samaritans, Women's Aid, Alzheimer's Society, The Children's Hospice and the Children's Cancer Unit. This year it is The Big House Ireland. This is a registered charity who want all young people to know that there is no difficult day, no dark experience that God cannot bring hope and life into. They offer 'The Listening Space' which is open to any young person of secondary school age who wants to talk through anything that's concerning them, privately, with a qualified counsellor." Find out more about The Big House Ireland on their website here.
So if you're out getting some shopping done on Saturday 1st December, why not call into the Ballymena Methodist Church Christmas Craft Fair on Ballymoney Road. Help support the local crafters and also the work of The Big House.