Volunteers needed for BBC series -Trust Me I'm A Doctor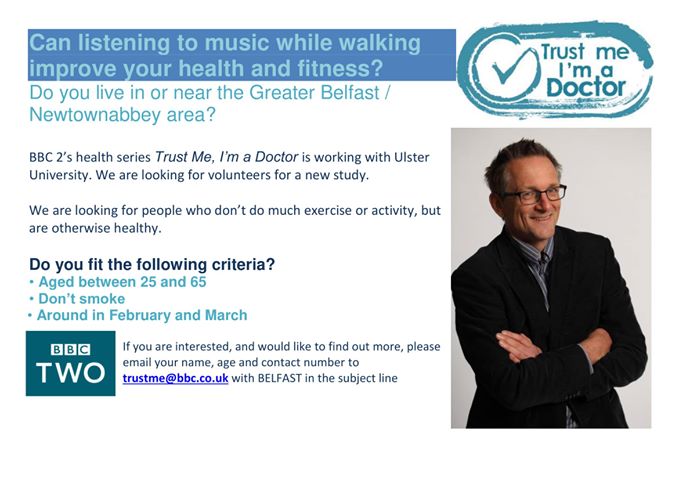 The BBC have asked us to help them find volunteers for the next series of Trust Me I'm A Doctor which will be shown on BBC2. The programme is working with Ulster University and need volunteers in Northern Ireland for a new study. Could you be one of those volunteers?
One of Trust Me's 'Big Experiments', which form the backbone of each programme, is coming to Belfast and they need a willing group of people to take part in it.
Katie, a researcher at the BBC told us, "We are currently setting up our topics for the next series of  BBC2's flagship health and medical series, Trust Me I'm A Doctor. This will be series 9! The 'Big Experiments' are a huge part of each programme and we would love people from Northern Ireland who meet the criteria to get in touch with us."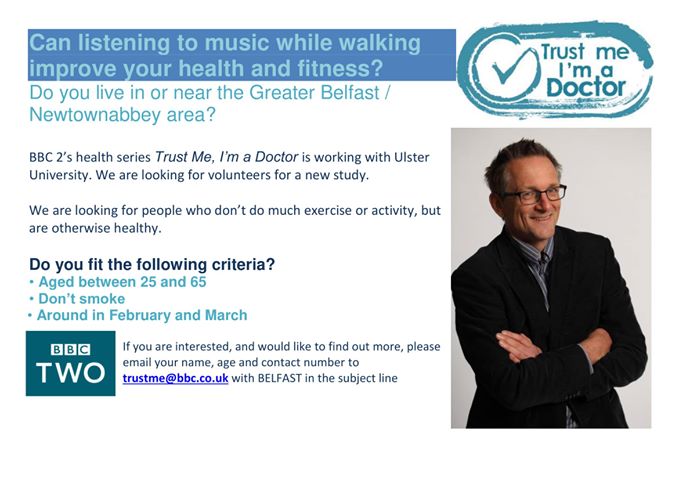 So what's involved?
The study is to find answers to the following –
'Can listening to music while walking improve your health and fitness?'
They are looking for people who don't do much exercise or activity, but who are otherwise healthy.
Aged between 25 and 65
Don't smoke
Are available in February and March
Can reach Ulster University's Newtownabbey campus
Could you be one of their volunteers? If you are interested in finding out more, please email your name, age and contact number to trustme@bbc.co.uk. Put BELFAST in the subject line.
Click here to find out more about the programme and see issues already covered by Trust Me I'm A Doctor. Don't forget to tune in to watch the series on BBC2 later in the year.