Roots Revealed is a professional genealogy and family history service based in Ballymena. They are now taking bookings for their third course to help you find out more about your family history –
Genealogy – Researching Your Family History Course
Each Monday evening from 16th September 2019 to 18th November 2019 (also an additional date tbc for a visit to Public Record Office NI – PRONI)
The course runs for 11 weeks
7:00pm to 9:00pm each Monday evening
At Ballymena North Business and Recreation Centre, Cushendall Road, Ballymena BT43 6HB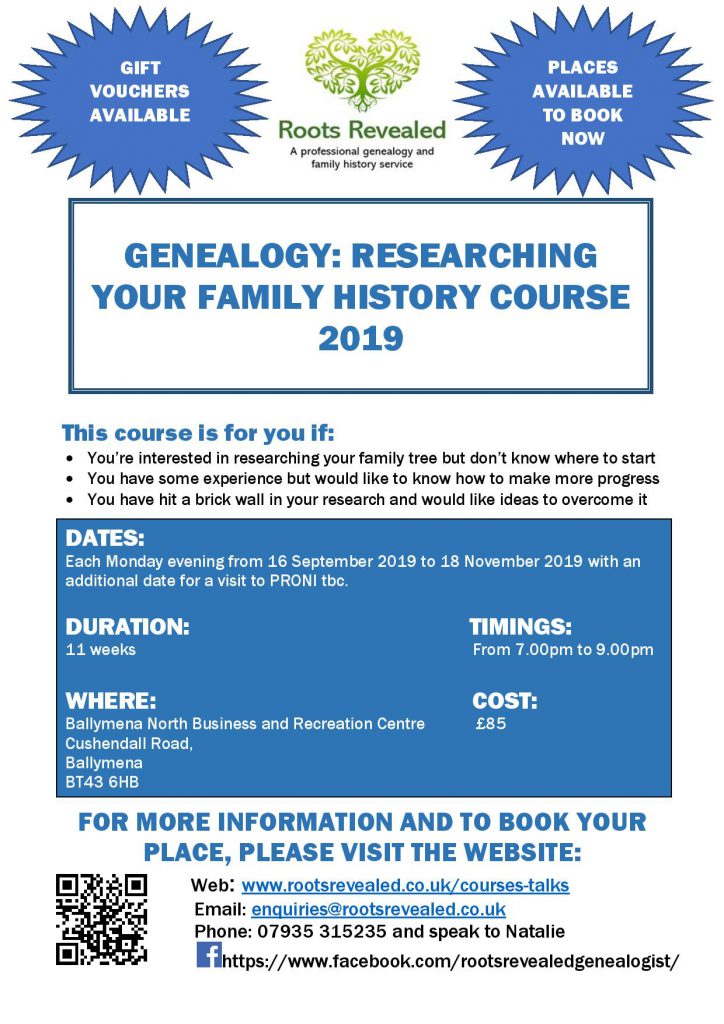 Roots Revealed – Researching Your Family History Evening Course 2019 – starting 16th September 2019 for 11 weeks
Roots Revealed said,
"WHO DO YOU THINK YOU ARE?  Have you always wanted to research your family history, but didn't know where to start? Or maybe you've made a start but have hit a brick wall and would like some ideas on what to do next?  Then the Genealogy: Researching Your Family Tree Evening Course is ideal for you. Starting on 16th September 2019 in Ballymena, County Antrim, this 11- week part-time evening course is delivered by a Natalie Bodle, a qualified genealogist and experienced trainer.
"This is the third course that Natalie of Roots Revealed has delivered in Ballymena and previous attendees certainly enjoyed the course and found it useful as can be seen from the reviews on her website. For example – "This was an excellent course.  Very enjoyable.  Natalie really brought it all to life and made it so we could understand."
"The course is suitable for novices as well as those who have some experience researching their ancestry.
"The course will run for 10 weeks in the classroom with the 11th week being used for a visit to the Public Records Office (PRONI) at Belfast to familiarise people with researching the many different records held there."
The course costs £85 and places are limited, so book soon to avoid disappointment!
If you would like some more details or would like to book a place on this course, click here to go to Roots Revealed website.