Have you ever taken part in the Ballymena festival? Recently, I played the piano in the Ballymena Festival 2016 for two different classes; a duet and a solo. And as a dedication Ballymena Today Youth Team I though I would let you know what exactly goes on. . . . . .
There are different groups which you can take part in, whether Drama, Music or the Arts, or public speaking! This year the festival ran from the 5th of February until the 12th of March. The groups are classified into different categories, for example by age, grade or a set piece.
First I took part in a piano duet with a close friend. We each performed our set piece in turn, while the adjudicator wrote notes. After everyone had played, the adjudicator tallied up everyone's scores and double-checked her comments. As she walked up to the stage, she was cheered on by a polite applause!
She went through each performance one by one giving some constructive criticism; praising you on what you did well in, and then giving comments in how to improve that piece, and also tips for further pieces.
After her comments, she invited all the performers onto the stage to receive their prizes. She called out 2nd place first, and gave them shiny silver badges. Then she called out first place… and we won it! We were so pleasantly surprised and walked back to our seats in shock, while lots of people were mouthing "Well done"!
After that, there were two "jazz" piano classes followed by the "Pianoforte Solo" Class… my solo class…
Out of 13 people, I was the 7th to go. As more played, I became more nervous as they all sounded so good! When my turn came, I went up to the stage and announced my piece, so that everyone knew what I was playing and who it was composed by.
After I sat down on the piano stool, I looked up at the adjudicator until she told me I could play. I positioned myself, and began to play…Once I started my piece, I was thinking about all the things that I shouldn't do, cringing slightly if I made a mistake. However, by the end of the piece, I was a lot more relaxed, playing it just like I would at home! I played right through my piece, ignoring any mistakes I made!

Once finished, I could relax and enjoy the rest of the performances. They all sounded fantastic! Then the adjudicator made her way up to the platform and started reading out all the comments, just like before. I found her comments very useful!
Then she invited everyone who played up onto the stage again, to announce the winners. She handed out certificates to the "Highly Commended" players. She presented the badges to the three 3rd places and I expected to be one of them… but she didn't call my name.
She then presented the badge for 2nd place. I was getting ready to receive my badge, when she called out another person's name! I was actually confused for a second, because I forgot that there was still one more place; I thought that I was the only one who didn't get anything! But then it clicked… I had won!! She announced my name as first place, and I received my gold badge, as well as a huge trophy! I was in shock!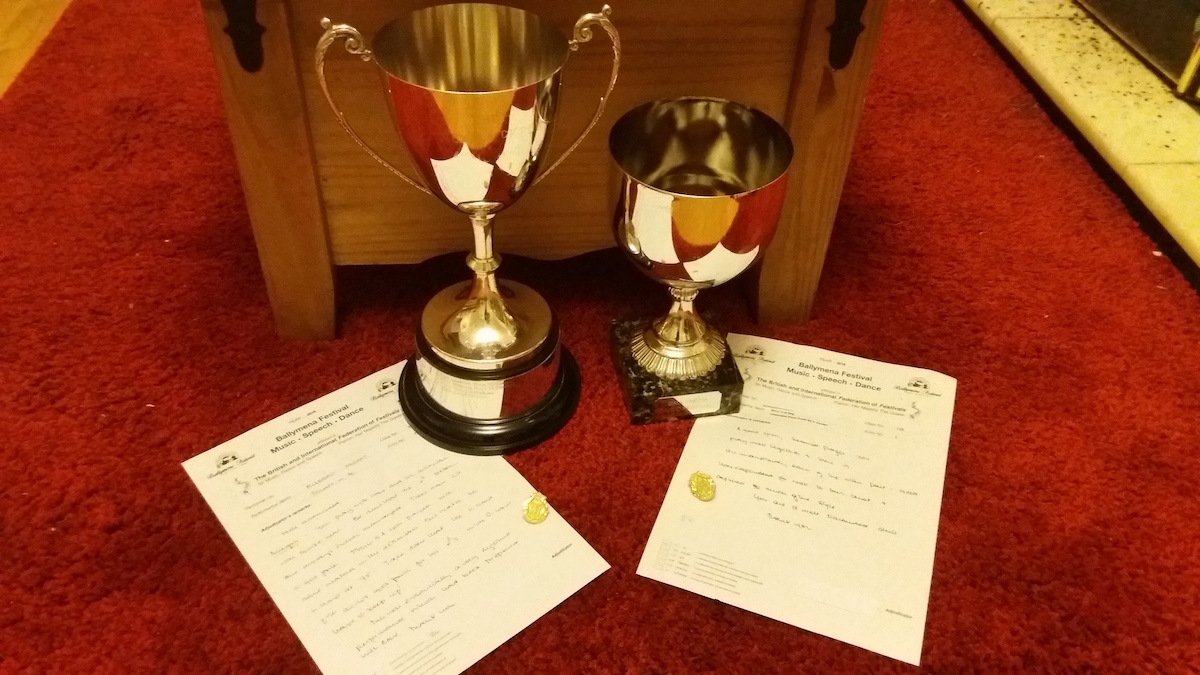 We all took a bow and made our way back to our seats. I walked back to my seat, wide-eyed, and greeted by a lot of smiles and silent claps!
So, that was my festival experience.
Have you ever competed in the festival? If not, why not? You could be surprised with the result! If you do decide to, all the best for next year!