Local Ballymena Business and the Internet
This is a beautiful picture of Ballymena from the early 1900's via Old Photographs of Ballymena. Depicting Church Street it is easy to see the variety of businesses who traded here when this was the main street in town.
Lots has changed since this photograph was taken. Cars have replaced the horses, shopfronts have been remodelled, businesses have come and go and the town has expanded beyond one main street. But the purpose of the high street has remained the same – to serve the people of Ballymena. And the problems remain the same too – attracting customers into one business rather than another, finding good staff, paying rent and rates.
Local Ballymena Business and the Internet
Another thing that has changed came with the arrival of the internet. Undoubtedly online shopping has made a dent in the profits of brick and mortar stores but for other business owners it has opened up new line of communication with their customers. What situation have you found yourself in?
Last week we featured a two part article about Slemish Market Garden. This business sell fresh fruit and vegetables, plants and produce from a shop within the grounds of the Ecos Centre. When we interviewed the owner Frank he revealed something which might be surprising. He said;
"The power of the Facebook page is enormous.

It keeps people in touch with what we do on a day-to- day basis. People are interested. We sell everything through Facebook." Click here to read the full article.
By using Facebook businesses like Slemish Market Garden have built up an online following of customers. With one click they can share information – a sentence to promote a new product, a quick video featuring your businesses latest achievement, a photograph of new stock, to share a post about another local business. And it isn't just Facebook – take a look at the Instagram account of local Northern Ireland business Middletown Coffee Co, or local photographer Steven Hanna's Twitter feed.
Using the internet to connect with people is a vital part of modern communication and modern business. Social media offers a platform which is free to use but has massive value. Yes it's free but it requires your time, effort and thought – how would you use a direct line to your potential customers?
Not sure how the internet can work for your business? Get in touch with Are Collective who can help you.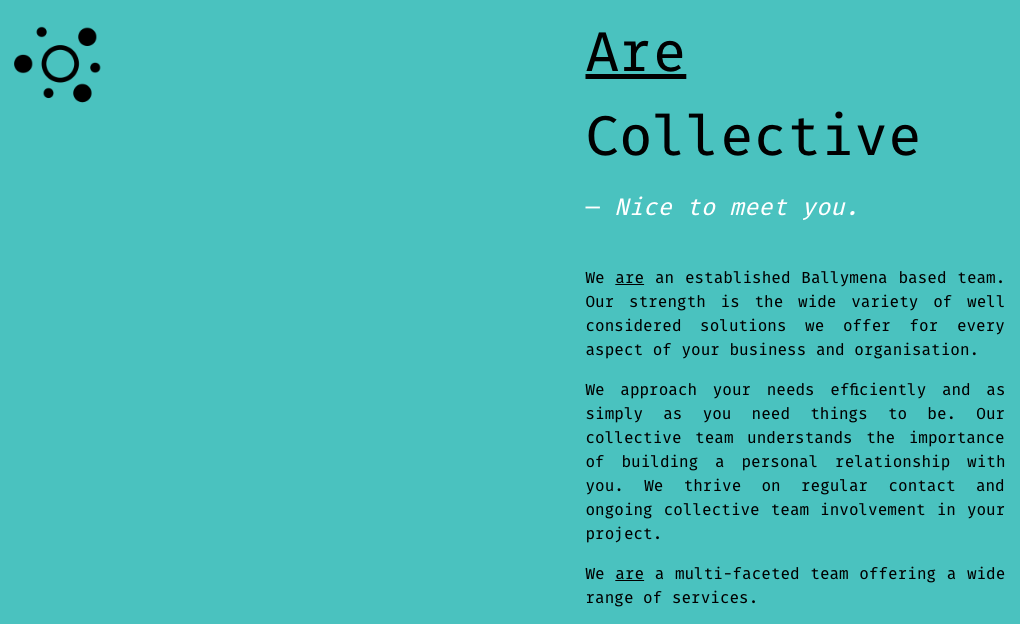 Click here to find out more.
We spend a lot of time talking to and writing about local Ballymena businesses.
Ballymena.Today is a website that has published over 1000 articles about our town and the businesses and organisations based here.
We write here, we share it on social media and we love to see Ballymena folks interact, like and share our articles. That means more people are seeing out positive articles about the town of Ballymena. Please share this article with someone who you think will find it useful.