Gig'n the Bann 2017 Portglenone
Portglenone's cross-cultural music & dance Festival, the Gig'n the Bann 2017 is about to get underway shortly. This year's Festival will run from 14th – 17th September with another full programme of events planned.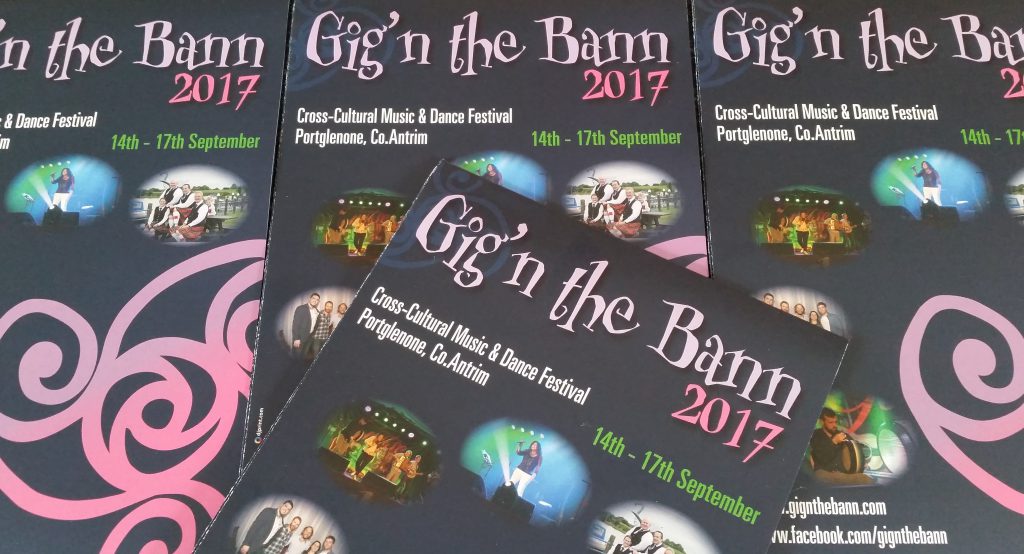 The Gig'n the Bann has grown over the years and is now a very popular festival with locals and those from further afield. We picked up this year's programme which once again has something for everyone to enjoy. There's lots of music on offer, art, events & activities for all the family.
It kicks off on Thursday 14th with Run'n the Bann/Walk'n the Bann at 7:00pm. We wrote more about it here.
On Friday there's an opportunity to see an art exhibition by local talented artist Vincent McAllister in the Mallard Suite in The Wild Duck. It will continue to run throughout the weekend at various times. One of his paintings also features on the festival flyer this year. The Riverside Suite, also in The Wild Duck is the venue for a concert on Friday evening. It will feature Séis and The Whistlin' Donkeys.
Lots of events are planned for Saturday. These include a Family Fun Day from 2:00pm at the playing fields on Townhill Rd. Also the Pipe'n the Square and solo piping competition for all pipe band enthusiasts. There's also a concert, again in The Riverside Suite, starting at 8:30pm.
Sunday sees more Family Fun in the Bank Square from 12 noon – 5:00pm. Praise'n the Bann begins at 6:30pm and the final event of the weekend will be a concert featuring Portglenone based Northbound and The Sands Family.
Click here for full programme details on the Gig'n the Bann website.
Gig'n the Bann 2017 – Portglenone's Cross-Cultural Music and Dance Festival is on this year from 14th – 17th September.
With a very full and varied programme, there should be something for everyone at this year's Gig'n the Bann. Check out Gig'n the Bann 2017 website for full details of this annual Festival in Portglenone. You can also keep up to date on their Facebook page.