Things to do In Ballymena this weekend
In Ballymena Christmas is in full swing. The shopping centres and car parks are getting busier and if you aren't interested in going shopping then here are some other things that we would recommend this weekend in and around Ballymena.
1/ Carols at the cottage
On Friday 2 December 2016 at 8pm Arthur Cottage in Cullybackey will be hosting a night of Christmas cheer with Carols at the Cottage. It sounds beautiful and is perfect for those who don't want to get caught up in the hustle and bustle of the season. It costs £6 per person and Mulled wine, shortbread and mince pies will be served.
To book your place please telephone Ballymena Visitor Information Centre on T: 028 2563 5010.
2/ Loose Thread Quilters Exhibitions
The Braid Arts centre is currently home to a beautiful exhibition featuring Quilts.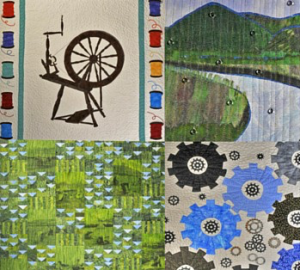 The Tale of the Thread features contemporary quilts inspired by the linen manufacturing process whilst the Song of the Quilt exhibition showcases quilts which have drawn inspiration from popular songs including 'Catch a Falling Star', 'Red Sails in the Sunset' and 'Material Girl'.
 Quilt making has gained increasing recognition as an art form in its own right over the last few years. In 2014 Mid-Antrim Museum curated an exhibition 'Log Cabin to Lightning Streak' which celebrated patchwork quilts from the collections of Mid-Antrim Museum and the Ulster Folk and Transport Museum, Cultra. These quilts showcased the craftsmanship and meticulous stitching involved as well as highlighting the social and domestic histories associated with them.Following on from this, the two current exhibitions showcase a range of contemporary quilting techniques and designs.
As part of the Tale of the Thread & Song of the Quilt exhibition programme, you will be able to join members of the Loose Thread Quilters for a demonstration and tour of their work on Saturday 21 January 2017 in the Studio Theatre at the Braid when they will be showcasing their latest quilting project between 10am-1pm, with a guided tour of the exhibitions starting at 11am. (Source)
3/ Head to the Cinema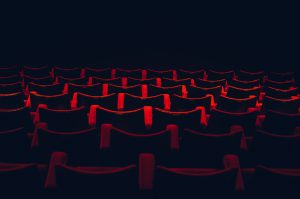 We are really excited about heading out to the cinema these day. There are some great films to choose from. Fantastic Beasts, Allied and A Streetcat named Bob offer a great story for everyone! We recommend grabbing a pick n mix and settling down for a good show and leaving all the Christmas lists, present wrapping and entertaining behind this weekend!